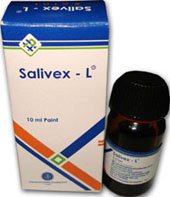 Salivex-L   Paint
 Composition:
Each 10 ml contains:
Anthraquinone glycosides ~Rhei extract)                   500mg.
Salicylic acid                                                                            100mg.
lidocaine HCL                                                                           60mg.
Properties:
Salivex-L exerts an antiphlogistic and antibacterial effects. It relieves pain
and protects the ulcerated area of oral nlJcous membrane and enables healing to occur. Salivex-L leads to a prompt decongestion of inflamed mouth lesions, reducing secretion and hypersensitivity of rt , It is well tolerated even by ~ who are hypersensitive to iodine and easily to be applied without causing any sort of pain.
Indications & Usage:
Salivex-L is mainly indicated in the following conditions:
– Acute and chronic inflammations of mucous membranes of mouth and throat.
– Aphthous stomatitis.
– Alveolar pyorrhea.
– Teething troubles …. etc.
– As an adjuvantln the treatment of pharyngitis and of Vincent's angina ( Vincent's infection)
Side Effects:
Hypersensitivity reactions to the drug components are very rare.
Warnings & Precautions:
– Avoid rinsing the mouth immediately after application.
– The bottle should be carefully closed afler use.
– When topical anesthetics are used in mouth or throat, the patient should be aware that the production of topical anesthesia may impair swallowing, for this reason, food should not be ingasted for 60 minutes,Jollowing the use, this is particularly important in children.
Dosage & Administration :
Paint all the lesions several times a day     means of a brush soaked with
Salivex-L. Avoid rinsing the mouth immediately after application.
Packing:
Bottle of 10 ml. with a brush.
Storage:
Store below 30'C
– Medicament is a product whIctI atre::ts yotK health, and its oonsurnption
contrary to ilsttuctions is dangero..s kw' you .
– Follow sbictty the doc:tor's prescripbl, the melhod of use and the instructions of the pharmaci~ who sales the medicament.
– The doctor and the pharmacist aB experts in medk:ioe. it's benefits and risks.
-Do not by yourself interrupt the period of treatment prescribed for you.
– Do not repeat the same prescripbl without consulting your doctor.
– Keep medicament out of d1iIdren mac:h
Produced by:
Chemical lndustrtes Development (CID) – Giza – A.R.E,