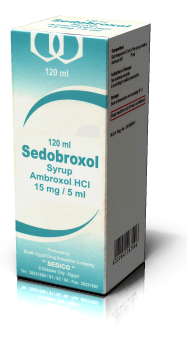 Sedobroxol  Syrup
Composition:
Each 5 ml of oral syrup contains:
Active ingredient:
Ambroxol hydrochloride 15 mg
Inactive ingredients:
Sorbitol 70%, sodium benzoate, citric acid monohydrate, tutti fruitti flavour, purified water.
Pharmacological properties:
– Sedobroxol is a systemically active mucoly1ic agent.
– Following oral administration, onset of action occurs after about 30 minutes.
– the breakdown of acid mucopolysaccharide fibers makes the sputum thinner and less viscous and therefore more easily removed by coughing.
– Although sputum volume eventually decreases, its viscosity remains low for as long as treatment is maintained.
Indications:
Treatment of respiratory disorders associated with viscid or excessive mucus (wet or productive cough): e.g. Tracheobronchitis, emphysema with bronchitis, pneumoconiosis, chronic inflammatory pulmonary conditions, bronchiectasis, bronchitis with bronchospasm
asthma.
N.B:
During acute exacerabations of bronchitis, Sedobroxol should be given with the appropriate antibiotic.
Contra-indication:
Patients with hypersensitivity to the active ingredient (ambroxol hydrochloride), or to bromhexine, orto any ofthe ingredients in the formulation.
Side Effects:
Occasional mild gastro-intestinal irritation and discomfort (e.g. Diarrhea, abdominal fullness, and nausea).
Allergic reactions, primarily skin rashes, occur rarely.
Precautions and warnings:
– Relative caution should be observed in patients with history of gastric or peptic ulceration.
– Use of Sedobroxol therapy is not recommended during the first trimester of pregnancy and breast-feeding mothers.
Dosage and Adminstration:0
Sedobroxol should be administered immediately after meals.
(One teaspoonful=5 ml).
Unless otherwise prescribed by a physician:
Adults, children (over 12 years old):
10 ml (two teaspoonfuls), to be administered 3 times daily.
Children:
Children 7-12 years old: 5 ml (one teaspoonful) 2-3 times daily.
Children 3 -6 years old : 2.5 ml (half a teaspoonful) 3 times daily.
Children 1-2 years old : 2.5 ml (half a teaspoonful) twice daily.
Drug interactions:
Antibiotic concentrations (arnoxicillin, cefuroxime, and erythromycin) in bronchopulmonary secretions and in the sputum are increased with concomitant administration of Sedobroxol .
Storage:
-.Keep at temperature not exceeding 30′ C.
– Keep out of reach and sight of children.
Pack:
Carton box containing amber glass bottle of 60 ml or 120 ml of syrup solution closed with aluminum cap and with insert leaflet.
Produced by :
South Egypt Drug Industries Company " SEDICO"
6 October City – Egypt