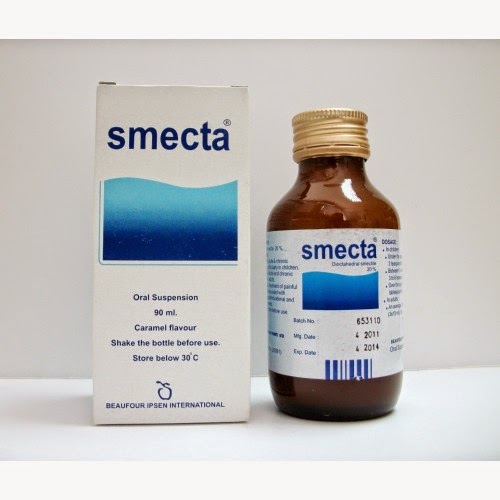 Smecta
Dioctahedral smectite
FORM AND PRESENTATION :
– Oral suspension, bottles of 90 ml & bottles of 60 ml.
– Powder for oral suspension, box of 10 sachets.
COMPOSITION PER 100 ml Suspension :
Dioctahedral smectite : 20 g
COMPOSITION PER SACHET :
Dioctahedral smectite: 3 g per sachet.
PROPERTIES :
SMECTA due to its leaflet structure & its high plastic viscosity, Smecta possesses a powerful coating property on the
gastrointestinal mucosa.
SMECTA by interacting with glycoproteins of mucous, Smecta increase the resistance of the mucosal gel in response to
aggressive agent .
SMECTA by its action on the gastrointestinal mucous barrier and its high binding capaci y, SME'CTA protects fhe gastrointestinal mucosa.
SMECTA is radiolucent, does not colour the stools & at usual doses, does not modify the physiological intestinal transit time.
INDICATIONS :
– Treatment of acute & chronic diarrhoea, particularly in children.
– Treatment of acute and chronic diarrhoea in adults.
– Symptomatic treatment of painful Symptoms associated with oesophagogastroduodenal and colonic diseases.
CONTRAINDICATIONS :
None
WARNING :
None
INTERACTION WITH OTHER DRUGS & OTHER INTERACTIONS :
As th'e adsorbent properties-of this product may interfere-with the rates and I .arJ.evels of ab.sorption of other substances It is recommended not to administer any other drugs at the same time as Smecta.
PREGNANCY & LACTATION :
None
OVERDOSAGE :
None
SPECIAL STORAGE CONDITION :
None
ADVERSE EFFECTS :
Very rare cases of development or aggravation of constipation have been reported; treatment was able to be continued after decreasing the dosage.
PRECAUTION :
Treatment with SMECTA does not eliminate the need for rehydration when it is required. The volume of rehydration and
its route of administration (oral or i.v.) should be adapted to the patient's age and condition as well as to the severity of diarrhoea.
DOSAGE :
Oral Suspension
In children:
-Under the age of 1 year: 3 teaspoonfuls (3×5 ml) per day.
-Between 1 and 2 years: 3 to 6 teaspoonluls (3 to 6×5 ml) per day.
-Over the age of 2 years: 2 to 3 tablespoonfuls (2 to 3x15ml) per day.
In adults:
-An average 3 tablespoonfuls (3×15 ml) per day.
Powder for oral suspension (Sachets)
In children:
-Under the age of 1 year: 1 sachet I day.
-Between 1 and 2 years: 1 to 2 sachets I day.
-Over the age of 2 years: 2 to 3 sachets I day.
The contents of the sachet should be suspended in a bottle with 50 ml of water administered during the day or thoroughly mixed with a semi-liquid food: broth, stewed fruit, mashed vegetables, baby food
In adults :
-An average 3 sachets per day
ADMINISTRATION :
In practice, in acute diarrhoea, the daily dosage can be doubled at the beginning of treatment.
SMECTA Oral Suspension – Shake the bottle well before use.
SMECTA should preierably be admioisterecl
-After meals in oesophagitis.
-In between meals in other indications.
-Retention enema 1 to 3 enemas per day of 1 to 3 sachets suspended in 50 to 100 ml of warm water.
Produced by :
AMRIYA FOR PHARMACEUTICAL INDUSTRIES· Alexandria – Egypt
Under license of BEAUFOUR IPSEN INTERNATIONAL· Paris· France