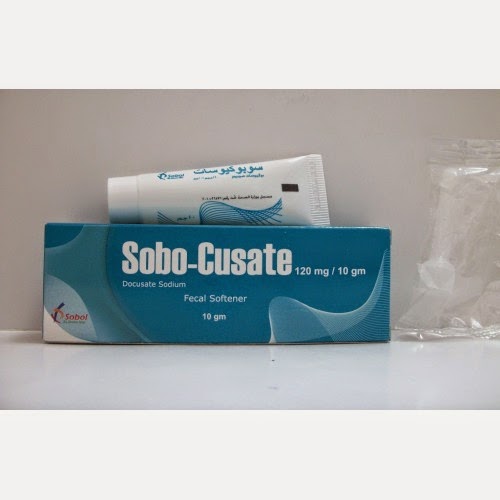 Sobocusate Aperient (Micro Enema)
Docusate Sodium 120mg/10gm
COMPOSITION:
Each 10 gm tube contains 120 mg of Docusate sodium.
Inactive Ingredients: Carboxymethylcellulose sodium, glycerin, methylparaben, propylparaben.
PHARMACEUTICAL FORM:
Rectal micro enema.
PHARMACOLOGICAL ACTION:
Oocusate sodium is aperient, Sobocusate softens the stool to make your ..bowel movements easier. It will help YOu when-you are constipated arean be usectta empty-the1argelnfestine=tf'lhe doctor wants to examine inside it
Pharmacokinetics: 
Sobocusate enema has a local effect in rectum. Minimal absorption cannot be ruled out even with a rectal application
INDICATION:
For the symptomatic treatment of constipation whenever enema is required and for the preparation of color and rectum for endoscopic examination.
DOSAGE & ADMINISTRATION:
– Suggested daily dose for adult and children over 12 years is one tube.
– A second dose may be used later in the same day or the next day if needed.
– Not recommended for children under 12 years.
– Don't use Sobocusate for more than few days at a time.
– If you use more SoboclJsataJbao you should contact your doctor or pharmacist
How to use Sobocusate Enema:
– always use Sobocusate as yourdoclor has told you. You should check with doctor or pharmacist if you are not sure
– Pull the cap off the neck of the tube.
– Gently squeeze the tube and smear a drop around the neck of the tube to help it slide in.
– Push the neck of the tube all the way into your rectum; squeeze the tube gently until the tube is empty.
– Stay near a toilet because you should need to use it about 5-20 minutes after using Sobocusate.
ADVERSE EXPERIENCES:
– Like all medicine, Sobocusate can cause side effects, although not every body gets them.
– Sometimes there is burning or pain around the anus, the wall of the rectum may become reddish or it ma
bleed and you may suffer from diarrhea but this soon goes.
–  Rarely the liver may be affected (signs include yellowing of the skin and eyes, bruising or itching especially if other laxatives are being used as well as Sobocusate.
– If any other side effects become serious, or you notice any side effects not listed in the leaflet, please tell your doctor or pharmacist.
DRUG· DRUG INTERACTIONS:
• As with all aperients, do not use other laxatives while you are using sobocusate as it may react with othe medicines. Please tell your doctor or pharmacist if you are taking or have recently taken any other medicines including medicines obtained without a prescription.
• It does not matter to use Sobocusate before or after meals.
WARNINGS AND PRECAUTION:
As with all ape(ien~ shol!ld….not ~ministered chronically; prolon ed use can eci itate the atonic non-functioning colon and hypocalcaemia.
Pregnancy & Lactation:
– May be used in pregnancy only if the benefits outweigh the risks.
– It is unknown whether docusate is excreted in human breast milk.
– Ask your doctor or pharmacist for advise before taking any medicine.
Driving & Using Machines:
Using Sobocusate will not affect the ability to drive or use machinery.
CONTRAINDICATION:
Hypersensitivity to any of the ingredients.
Hemonboids, abdominal pain jf you sick or being sick, blockage of intestine, a.nal fissure, inflammatory bowel disease (ulcerative colitis or crohn's disease), recto colitis. Nausea, vomHlng, sudden change in bowel habits that fasrcvenwo-weekl
PACKAGE & STORAGE:
Carton box contains 10 gm plastic tube + inserted leaflet + rectal applicator.
Type of tube: polyethylene.
Store at temperature not exceeding 30°C.
PATIENT INSTRUCTION:
Consult your doctor or pharmacist before using medicine.
Keep All Medicine Out of Reach of Children
Manufactured by :
Multi-Apex for Phanmaceutical lndustries – S.A.E