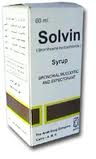 Solvin
Syrup – Tablets – Drops
Bronchial mucolytic and expectorant
Composition:
Syrup                     Tablets                    Drops
Bromhexine hydrochloride             80 mg                  8 mg/tab.                 2 mg/ml
Extract Senega                                   2 ml                              —-                            —-
Tinc.lpeca                                            5 ml                             —-                             —-
Tolu Syrup                                           2 ml                            —-                             —-
Anise oil                                               0.035 ml                    —-                            —-
Syrup to                                               100 ml                        —-                            —-
Properties :
Solvin has mucolytic actions Solvin liquifies viscous bronchial mucus with the increase in the sputum volume thus promotes the expectoration of blocked up secretions leading
to easier respiration performance.
Indications & Usage:
All forms of tracheobronchitis emphysema with bronchitis pneumoconiosis chronic inflammatory pulmonary conditions bronchiectasis bronchitis with bronchospasm asthma During acute exacerbations of bronchitis Solvin should be given with the appropriate antibiotic Solvin may also be administered to facilitate and expedite the expectoration of abnormal ftuid present in the bronchi e.g contrast media.
Contra-indications:
There are no absolute contra-indications but in patients with gastric ulceration relative caution should be observed in the use of Solvin tablets.
Side affects:
Occasional gastro-intestinal side effects may occur bet these are almost invariably mild.
Precautions:
Studies in animals have given no suggestion that Solvin has any terato- genic potential in humans. Nevertheless as with any drug it is advisable to avoid use during the first trimester of pregnancy.
Warning:
– Don't use Solvin syrup for children less than 2 years absolutely.
– Don't use Solvin syrup for children less than 6 years without medical supervision.
Dosage & Administration:
Tablets 8 mg     Solution 8 rng/4 rnl     Elixir 4 rng/S rnl
(60 droDs-4 ml)       (1 teasneon – 5 ml)
Adults and children          8 rng(1 tab.) t/d           4ml  t/d                  10 ml (2 tsp.) t/d
over 10 years
Children 5-10 years     4 mg (1/2 tab.) q/d             2ml t/d                   5 ml (1 tsp.) t/d
children under              4 mg (1/2 tab.) b/d     12 drops t/d              2.5 ml (1/2 tsp.) t/d
5 years
Babies                                     ———                    8 droos t/d                          ———–
At the commencement of treatment it may be necessary to increase or double the dose
Packing:
Syrup       : Bottles of 60 ml or 120 ml
Tablets    : Box of 20 or 1000 tablets in strips
Drops      : Bottles of 15 ml with dropper
Storage:
Protect from light.
Store at temperature not exceeding 30° C .
Keep out of the reach of children.
Produced by :
The Arab Drug Company Cairo – A.R.E.
ADCO