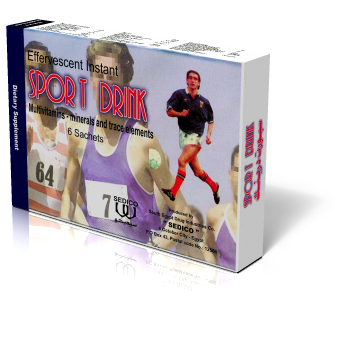 Sport drink
Multivitamins – minerals and trace elements
Effervescent instant
Composition :
Each sachet contains:
– Thiamine mononitrate (Equivalent to 1 .2 mg Thiamine) 1.30 mg
– Riboflavin-5-phosphate sodium (Equivalent to 1 .30 mg Riboflavin) 1.65 mg
– Pyridoxine hydrochloride (Equivalent to 1 .398 mg pyridoxine) 1.700 mg
– Cyanocobalamin 0.1 %               2.40 ug
– Nicotinamide                               10.0 mg
– Calcium-D-Pantothenate          8.70 mg
(Equivalent to 0.731 mg Calcium & 8.0 mg Pantothenic acid)
– Folic acid                                      160 ug
– Biotin                                             30 ug
– Sodium molybdate. 2H,O (Equivalent to 0.045 mg Molybdenum) 0.113 mg
– Sodium Selenite (Equivalent to 0.05 mg Selenium) 0.110 mg 
– Zinc Sulfate. H,O (Equivalent to 11.00 mg Zinc) 30.186 mg
– Ascorbic Acid                                                             90.0 mg
– Calcium Phosphate monobasic monohydrate       133.0 mg
(Equivalent to 21.10 mg calcium)
– Calcium Carbonate (Equivalent to 78.90 mg Calcium) 197.30 mg
– Magnesium carbonate ex1ra light (Equivalent to 35.0 mg Magnesium)                                                                       136.71 mg
– Sodium bicarbonate (Eq. to 336.49 sodium)                    1230.0 mg
– Sodium chloride (Eq. to 19.66 mg sodium)                   50.000 mg
Sodium carbonate anhydrous (Eq, to 43.35 mg sodium) 100.000 mg
Potassium bicarbonate (Equivalent to 98.00 mg Potassium)  250.000 mg
Properties :
Many people have a deficit in their mineral substances and lorvitamins. Sport drink with its special composition in addition to its vitamin components can solve this problem in a record time. Sport drink compensates that loss without extra calories. An under supply of magnesium, calcium, sodium & potassium can have negative effects on the condition & readiness of sportsmen & hard workers. Those minerals are present in adequate amounts in Sport drink. In addition to vitamin- B complex members, antioxidants specially
selenium &vitamin C, trace elements as Zinc & molybdenum have been added to enhance & catalyse various physiological reactions. Sport drink provides the ideal amounts of vitamins, minerals, trace elements & antioxidants facing specific needs. Sport drink helps to maintain optimal vitality. The instant effervescent pharmaceutical
form of sport drink ensures a palatable soft drink with rapid absorption, high bioavailability & a perfectly calibrated dose.
Indications :
Dietary supplement of vitamins, minerals and salts.
Contraindications :
Sport drink is contraindicated in people with known hypersensitivity to any of its components.
Side effects :
Side effects were not recorded.
Precautions :
– Caution should be taken in patients who complain from hypertension, heart failure, renal diseases, oedema and all cases that need salt restriction.
Dosage :
One sachet twice daily and the dosage can be increased up to 3 times for sports people according to the effort exerted
Administration :
to get apalatable soft drink dissolve the content of one sachet in half a glass of water and drink during effervescence.
Storage :
keep away from moisture, at temp. not exceeding 30 'C.
Keep medicine out of reach of children.
Presentation :
Box of 6 sachets.
Dietary supplement I
Produced by :
South Egypt Drug Industries Company SEDICO
6 October City – Egypt