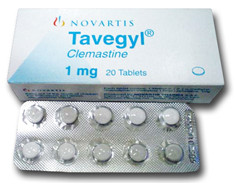 Tavegyl
An anti-allergic and antiprurtic agent
Composition :
Clemastine (INN rec.) (As the hydrogen fumarate)
Tablet (Scored)               1 mg
Syrup                               0.1mg/ml
Ampoule (2ml)               1.0mg/ml
Inactive ingredientsl 2ml:
Sorbitol 90 mg, propylene glycol 600 mg, Ethanol 140 mg, trisoduim citrate dihydarte q.5, adjusts PH to 6.3, water injection adds to 2 ml.
Propertiesl Actions :
Tavegyl is an H-l receptor antagonist belonging to the alklylamine group of antihistamines. It selectively inhibits the H-l histamine
receptors and reduces capillary permeability exerting an antihistaminic and antipruritic effect that persists for up to 12 hours.
Pharmacokinetics :
Following oral administration, Tavegyl (clemastine) is almost completely absorbed from the gastrointestinal tract.
Peak plasma concentrations are attained within 2 to 4 hours. The antihistaminic activity of the drug reaches its peak after 5 to 7 hours; it usually persists for 10 to 12 hours, in some cases, however, for up to 24 hours injected clemastine is directly distributed via plasma protein clemastine is 95 % bound to the plasma proteins elimination from plasma occurring biophysically with half live of 3.6 +-0.9 hours and 37 +-16 hours
Indications / Uses
Oral dosage form
-Hay fever and other allergic rhinitis
-Urticaria including dermatographia
-Pruritus itching dermatoses
-As an adjunct in treatment of acute and chronic eczema, contact drematitis and drug eruptions.
-Insect stings and bites
Injectable dosage form :
-As an adjunct in treatment of anaphylactic or anaphylactoid shock and a gioneurotic oedema.
-Prevention or treatment of allergic and pseudo – allergic reactions e.g. to contrast media, blood transfusion, the histamine test, etc.
Dosage and administration:
Oral
– The tablets should be taken with water before meals.
– Adults and children over 12 years of age:
1 tablet or 10 ml syrup morning and evening up to 6 tablets or 60 ml syrup daily may be given in refractory cases.
– Children under 12 years of age Before breakfast and at bedtime
1-3 years of age 2.5-5 ml syrup
3-6 years of age 5 ml syrup
6-12 years of age  5-10 ml syrup or 1/2 – 1- tablets
Injection :
Adults: the usual dose is 1 ampoule (2ml =2mg) by i.v, or i.rn. injection morning or evening. To prevent anaphylactic or histamine-induced reactions 1 ampoule (2ml) should be given by i.v. injection immediately before possible occurrence. The solution in the ampoule may be diluted 1 :5 with isotonic saline or 5 % glucose.
Children: 0.025 mg/1<g daily by i.rn, injection in two divided doses.Restrictions on use
Contraindications :
Known hypersensitivity to Tavegyl (Clemastine) or other antihistamines of similar chemical structure or to any of the excipients. Tavegyl should not be given to patients suffering from porphyria. Tavegyl should not be given to children below 1 year of age for parental form, and not for children less than 6 years for tablet form.
Precautions :
Warning: Tavegyl must not be given by intraarterial injection. Intravenous injections must be given slowly (over 2-3 minutes). Particularly when given by the parental route. Tavegyl may
have a sedative effect. Care should therefore be exercised by patients when driving vehicles, operating machinery, etc. Depressing of the central nervous system may occur, particularly in infants.
Antihistamines should be used with caution in patients with narrow angle glaucoma, stenosing peptic ulcer, pyloroduodenal obstruction or prostatic hypertrophy with urinary retention and bladder outlet obstruction.
Warnings to excipients :
Tavegyl tablets contain Lactose. Patients with rare hereditary problems of galactose intolerance, the Lapp lactose deficiency or
glucose-glucose malabsorption should not take this medicine. Tavegyl Injection and Tavegyl Syrup contain
Sorbitol: patients with rare hereditary problems of fructose intolerance should not take this medicine.
Ethanol (alcohol): harmful for those suffering from alcoholism. To be taken into account in children and in high-risk groups such as patients with liver disease, or epilepsy. Tavegyl Syrup also contains methyl and propyl- parahydroxybenzoate which may cause allergic
reactions (pcssibly delayed).
Pregnancy / lactation :
You should not take Tavegyl if you are pregnant, intending to be pregnant or if you are breast- feeding. Ask your doctor or pharmacist for advice before taking any medicine
 Adverse effects :
The following may be particularly pronounced with parental administration and in infants: fatigue, sedation, and in rare instances, dry mouth, headache, dizziness, skin rash, nausea, gastritis, and constipation. In very rare cases hypersensitivity reactions associated with dyspnoea and / or shock have been reported following intravenous administration.
Interactions :
Antihistamines potentiate the sedative effects of hypnotics, monoamine oxidase inhibitors (MAOls), tricyclic antidepressants, anxiolytics, opioid analgesics and alcohol.
Preclinical safety data :
Non-clinical data reveal no special hazard for humans based on conventional studies of safety pharmacology, repeated dose toxicity,
genotoxicity, carcinogenic potential, toxicity to reproduction.
Over dosage :
Symptoms: The eNS effects of antihistamine overdosage vary between depression and stimulation. Excitation is particularly common in children. Anti-cholinergic effects such as dry mouth, fixed dilated pupils, flushing and gastro- intestinal reactions may also occur.
Management: Elimination of the drug by gastric lavage and administration of activated charcoal, plus symptomatic therapy.
Other items of information :Tavegyl should be kept out of children. Not to be used after the expiry date (= EXP) printed on the pack.
Packages :
Tablets: Pack of 20
Syrup: Bottle of 100 ml
Ampoules: Pack of 3 ampoules 3 ml
Produced by :
NOVARTIS PHARMA S.A.E- Cairo
Under license from Novartis Consumer Health, Schweiz AG, Bern Switzerland.