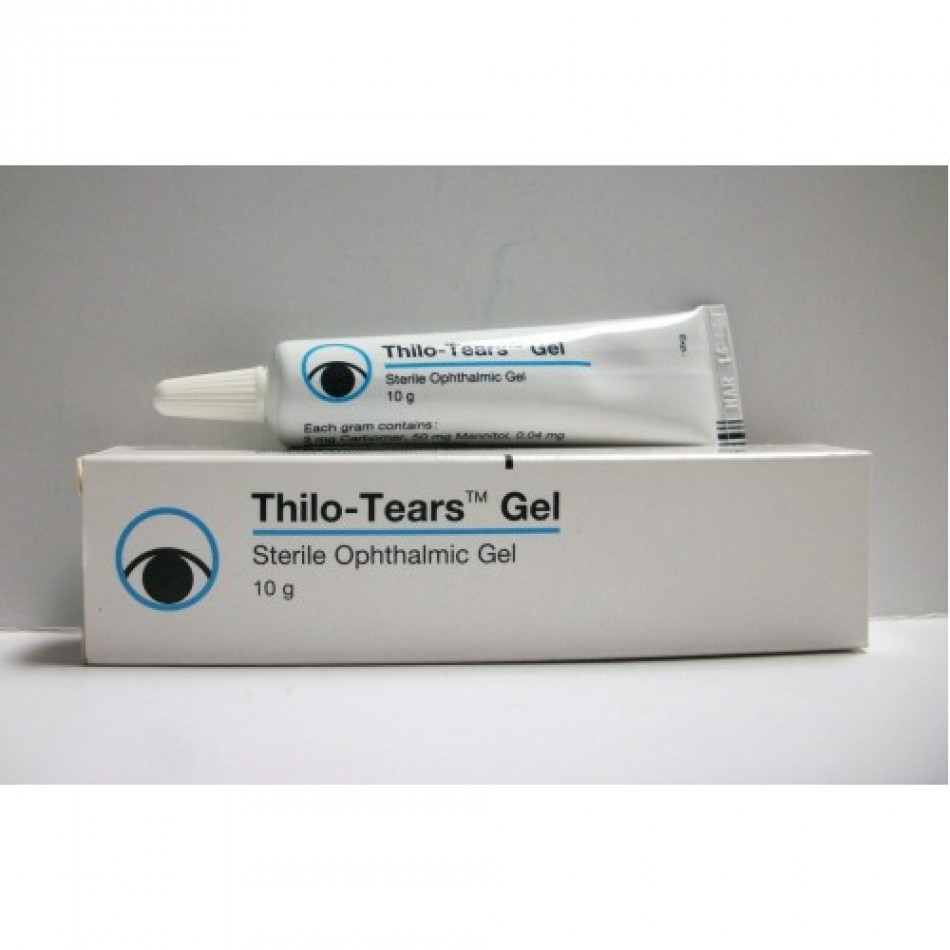 1. NAME OF THE MEDICINAL PROOUCT
THILO- TEARS*
3 mg/g eye gel
2. QUALITATIVE AND QUANTITATIVE COMPOSITION
Carbomer 3 mg/g
3. PHARMACEUTICAL FORM
Eye gel.
4. CLINICAL PARTICULARS
4.1 Therapeutic indications
"Dry eye" affections, lachrymal substitute for all affections
accompanied by insufficient or defective wetting of the surface of the eye.
4.2 Posology and method of administration
Instill 1 drop in the conjunctival sac 4 times daily or as needed. The tube should be held vertically. Contact with the eyes should be avoided. This technique prevents the drop from becoming too big for the contents of the conjunctival sac and eyelashes from sticking together.
4.3 Contraindications
Hypersensitivity to any of the components of this preparation.
4.4 Special warnings and precautions for use
If patients experience eye pain, vision changes, irritation of the eyes, persistent redness or if the Condition worsens or persists, they are to discontinue use and consult their doctor. THILO-TEARS* contains benzalkonium chlorid which may cause eye irritation and is known to discolor soft contact lenses. Avoid contact with soft contact lenses. Patients must be instructed to remove contact lenses prior to
application of THILO- TEARS and wait at least 15 minutes before
reinsertion.
4.5 Interaction with other medicinal products and other
forms of interaction
No clinically relevant interactions have been described.When treated with other eye preparations simultaneously, one should wait at least 15 minutes between two successive application.
4.6 Pregnancy and lactation Fertility
There are no available data on the use of this medicine affecting
male or female fertility.
Pregnancy
There are no adequate data on the use of THILO- TEARS* during
pregnancy. Caution should be exercised when prescribing THILO- TEARS to pregnant women. The benefits of treating the mother must be weighed up against the possible risk to the fetus.
Lactation
There are no adequate data on the use of THILO- TEARS during
lactation. All components ofTHILO-TEARS are commonly used in
ophthalmic preparations and when applied topically, systemic
exposure is very low. Therefore the risk of THILO- TEARS passing
over to human milk is judged to below. The benefits of treating the mother must be weighed up against the possible risk to the infant.
4.7 Effects on ability to drive and use machines
Sight may be impaired temporarily until the gel is evenly distributed over the surface of the eye. Temporary blurred vision or other visual disturbances may affect the ability to drive or use machines.
If blurred vision occurs at instillation, the patient must wait until the vision clears before driving or using machinery.
4.8 Undesirable effects
The following adverse reactions have been reported during clinical trials with Carbomer, and are classified according to the following convention: very common (>1/10), common (>1/100 to < 1/10), uncommon (>1/1 ,000 to < 1/100), rare (> 1/10,000 to < 111,000), very rare (<1/10,000), or not known (cannot be estimated from the available data). Within each frequency-grouping, adverse reactions are presented in order of decreasing seriousness. .
4.9 Overdose
Overdose is unlikely because of the limited capacity of the conjunctival sac of the eye. Components of THILO- TEARS are generally regarded as non-toxic materials. Hence toxicity after Inadvertent oral ingestion is extremely unlikely.
Due to the characteristics of this preparation, no toxic effects are to be expected with an ocular overdose of this product, nor in the event of accidental ingestion of the contents of one bottle or tube.
5. PHARMACOLOGICAL PROPERTIES
5.1 Pharmacodynamic properties
Pharmacotherapeutic group: Artificial tears and other indifferent
preparations.
THILO- TEARS has no pharmacological activity. The gel forms a
protective and wetting film over the cornea and is used as tear
substitute. THILO- TEARS has a higher viscosity when compared to aqueous solutions. In spite of this higher viscosity, the gel easily mixes with the tear fluid. After mixing with the tear fluid, the gel forms a wetting transparent film over the surface of the eye without impairing vision. This film is used as a substitute for tear fluid or a Qualitatively deficient lachrymal film and thus enables a friction less movement of the eyelid over the surface of the eye. The eye surface is protected against dryness. Harmful effects after topical application have not been observed. However, if they should occur, systemic absorption of the small amounts prescribed or even accidental ingestion of the content of a whole tube will not cause toxicological effects.
5.2 Pharmacokinetic properties
In order to assure an effective action THILO- TEARS should remain as long as possible onto the eye surface and Should not penetrate the eye. This is guaranteed by its physico chemical properties. Absorption and accumulation of the polymer in the eye tissue is not to be expected because of the high molecular weigh!. Dependent upon the seriousness of the affection, THILO- TEARS provides relief of the complaints for 3 to 4 hours.
5.3 Preclinical safety data
No information provided.
6. PHARMACEUTICAL PARTICULARS
6.1 List of excipients
Sorbitol – benzalkonium chloride – sodium hydroxide – purified water to 1 g
6.2 Incompatibilities
Not applicable.
6.3 Shelf life
Unopened: 24 months; see expiry date on packaging after the sign "Exp" (month/year).
Discard four weeks after first opening.
6.4 Special precautions for storage
Do not store above 25°C. And after opening discard after 28 days at ambient temperature.
6.5 Nature and contents of container
Tube containing 109.
6.6 Special precautions for disposal and other handling
No special requirements.
7. MARKETING AUTHORISATION HOLOER
SA Alcon-Couvreur NV
8. MANUFACTURER
Alcon-Couvreur Rijksweg 14
(Belgium) Novartis