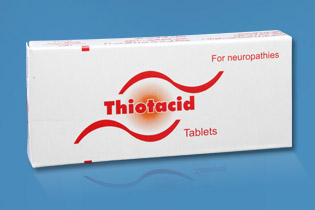 Tablets & Ampoules
Thiotacid
For Neuropathies
Composition:
Tbiotacid tablets:
Each tablet contains : Thioctic acid (alpha lipoic acid)     300 mg
Thiotacid 600 mg tablets:
Each tablet contains: Thioctic acid (alpha lipoic acid)     600 mg
Thiotacid ampoules:
Each ampoule 10 mI contains :Thioctic acid (alpha lipoic acid) 300 mg
Properties:
cofactor in the pyruvate – dehydrogenase complex, the alpha ketoglutarate-dehydrogenase complex, and the amino acid hydrogenase complex. Reduced levels of thioctic acid have been found in patients with liver cirrhosis, diabetes mellitus, atherosclerosis, and polyneuritis. During the metabolic process thioctic acid may be transformed from its oxidized form(with the disulfide bridge in the molecule) to its reduced dihydroform with two free sulfide groups. Both forms have strong antitoxin effects. They protect the cell from free radicals that result from intermediate metabolites or from the degradation of
exogenous molecules and from heavy metals. Dihydrolipoic acid also scavenges superoxide radicals and hydroxyl radicals and prevents lipid peroxidation Thioctic acid delays the onset of motor hexacarbon-induced neuropathy, and dihydrohpoate protects neurons against ischemic damage by inhibiting accumulation of free oxygen radicals in cerebral tissues.
Indication:
Diabetic polyneuropathy, neuritis, polyneuritis, optic neuritis & encephalopathies. djuvant th rapy in treatment of male infertility.
Dosage:
Tablets : 300 mg -1800 mg daily in divided doses according to the
severity of the case and physician' s prescription. The tablet should be
taken on an empty stomach.
Ampoules:600 mg ( 20 ml ) by intravenous injection daily for two to
four weeks.
Intravenous injection: To be given slowly at a maximum rate of 1.5
milliliters per minute.
Intravenous infusion: The dose should be mixed in 100 to 250 ml of
normal saline and given as an infusion infused over 30 minutes. The mfusion should be protected from light by covering the IV container with aluminum foil or dark plastic cover
Side effects:
• After too rapid IV injection ( faster than 50 mg min.) tension headache and shortness of breath may occasionally occur, these symptoms resolve spontaneously. Local allergic reactions might occur at the injection site, and may proceed to anaphylactic shock in hypersensitive patients.
·Svm to s of  of the therapy.
Contraindications:
Hypersensitivity to thioctic acid.
Drug interactions:
Dose must be adjusted in diabetic patients as thioctic acid may decrease blood sugar levels of glucose & has an additive effect to  insulin and other hypoglycemic medications.
Warnings &Precautions:
Animal studies have not demonstrated teratogenic effects, there are no adequate studies in humans, therefore thioctic acid should only be used if the benefits to the mother outweigh the potential risks to the
fetus.
Storage:
Store below 30 C & protect from light
Keep out of reach of children.
package :
Thiotacid 300mg tablets: pack of 2 , 3 or 6 strips each of 10 tablets .
Thiotacid 600mg tablets: pack of 2 strips each of 10 tablet.
Ampoules: Pack of5 ampoules.
manufactured by :
eva pharma for pharmaceuticals &medical appliances – egypt