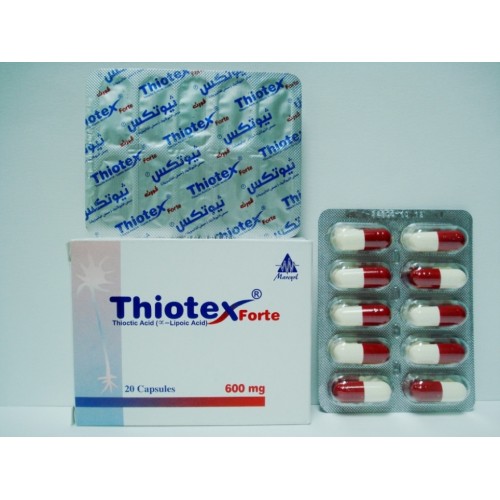 Thiotex
Thiotex 300 mg Capsules
Thiotex Forte  600 mg Capsules
Thioctic acid (a-lipoic acid) 300 mg OR 600 mg
Composition :
Each Capsule contains:
Active ingredient:
Thioctic Acid 300 mg OR thioctic Acid 600 mg
Inactive ingredients:
Maize Starch, Colloidal Silicon Dioxide, Magnesium Stearate.
Pharmaceutical from :
Hard Gelatin Capsules.
Pharmacololgical action :
Thioctic Acid is a biologically occurring substance which acts as a cofactor in the pyruvate- dehydrogenase complex, the alpha-ketoglutarate, dehyrogenase complex and the amino acid hydrogenase complex.
Reduced levels of thioctic acid have been found in patients with liver cirrhosis, diabetes mellitus, atherosclerosis, and polyneuritis. During the metabolic process thioctic acid may be transformed from its oxidized from (with the disulfide bridge in the molecule) to its reduced dehydro from with 2 free sulfide group, both forms ha'
strong antitoxin effects. It protects the cell from free radicals that result from intermediate metabolites or from the degradation of exogenous metals.
Dihydrolipoic acid also scavenges superoxide radicals and hydroxyl radicals and prevents lipid peroxidation Thioctic acid delays the onest of motor hexacabon- induced neuropathy and dihydrolipoate protect neurons against ischemic damage inhibition of accumulation of free oxygen radicals in cerebral tissues.
Thioctic acid stimulates the synthesis of nerve growth factor (NGF) hence improvh nerve conduction velocity.
Thioctic acid improves endothelial function by increasing the synthesis of NO vasodilator. Thioctic acid reduces insulin resistance by translocation and activatior of GLUT4 receptors.
Pharmacokinetics :
a lipelic acid (ALA) can be synthesized by both-animals & humans it seems to be readily absorbed from an oral dose and converts easily to its reduced from, dihydrolipoic acid (DHLA) in many tissues of the body. An in vitro study indicated that normal mammalian cells appear to be capable of taking up 0- lipoic acid and reducing it to DHLA. The effects of both ALA and DHLA are present both intra- and extracellularly when exposed to extracellular Lipoic acid, eg, in an oral dose.
Indications :
– Diabetic polyneuropathy.
– Neuritis, polyneuritis & optic neuritis.
– Encephalopathies.
Dosage and administration :
The patient begins with 300 mg twice daily then the dose could be reduced to 300 mg once daily or as directed by the physician.
Contraindications :
Hypersensitivity to thioctic acid.
Side effects :
Not recorded in the recommended doses.
Drug interactions :
Dose must be adjusted in diabetic patients as thioctic may decrease blood suger levels of glucose and has an additive effect to insulin and other hypoglycemic medication.
Warning and precautions :
See pregnancy and lactation.
Pregnancy and lactation :
In pregnancy: animal studies have not demonstrated teratogenic effects, there are no adequate studies in human, there fore, thioctic acid should only be used if the benefits to the mother outweigh the potential risk to the fetus
Package & storage :
Carton box containing 1, 2 or 3 strips each of 10 capsules and insert leaflet.
Store below 30°C and protect from light.
Keep out of reach of children.
Manufactured by :
Marcyrl Pharmaceutical Industries El Obour City Egypt