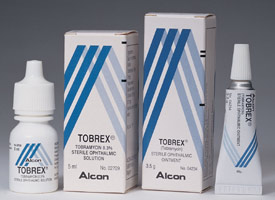 Tobrex  (Tobramycin)
Sterile Ophthalmic Solution and Ointment
DESCRIPTION:
TOBREX® (tobramycin 0.3 %) is a sterile topical ophthalmic antibiotic formulation prepared specifically for topical therapy of external infections. This product is supplied in solution and ointment forms.
Each ml of solution contains:
Tobramycin 0.3% (3 mg/ml).
Inactives anCff'urified Water, and BenzalKonium Cflloride 0.0″1″% as a preservatiVe.
Each gram of ointment contains:
Tobramycin 0.3% (3 mg/g), Mineral Oil, Petrolatum Base, and Chlorobutanol 0.5 % as'a preservatlvs.
Tobramycin is a water-soluble aminoglycoside antibiotic active against a wide variety of gram-negative and gram-positive ophthalmic pathogens.
 CLINICAL PHARMACOLGY :
In Vitro Data: In vitro studies have demonstrated tobramycin is active against susceptible strains of the following microorganisms:
Staphylococci, including S. aureus and s. epidermidis (coagulase-positive and coagulase-negative), including penicillin-resistant strains.
Streptococci, including some of the Group A-betahemolytic species, some non-hemolytic species, and some Streptococcus pneumoniae. Pseudomonas aeruginosa, Escherichia coli, Klebsiella pneumoniae, Enterobacter aerogenes, Proteus mirabilis (indole-negative) and indole-positive Proteus species, Haemophilus influenzae and H. aegyptius, Moraxella lacunata, and Acine,tobacter calcoaceticus (Herellea vaginacola) and some Neisseria species.
Bacterial susceptibility studies demonstrate that in some cases,microorganisms resistant to gentamicin retain susceptibility to tobramycin. A significant bacterial population resistant to tobrarnycin has not yet emerged; however, bacterial resistance may develop upon prolonged use.
INDICATIONS AND USAGE:
TOBREX is a topical antibiotic indicated in the treatment of external infections of the eye and its adnexa caused by susceptible bacteria. Appropriate monitaing of bacterial response to topical antibiotic therapy should accompany the use of TOBREX. Clinical studies have shown tobramycin to be safe and effective for use in children.
CONTRAINDlCATIONS:
TOBREX Ophthalmic Solution and ointment are contraindicated in patients with known hypersensitivity to any of their components
WARNINGS:
NOT FOR INJECTION INTO THE EYE. Sensitivity to topically applied aminoglycosides may occur in some patients. If a sensitivity reaction to TOBREX occurs, discontinue use.
PRECAUTIONS:
As with other antibiotic preparations, prolonged use may result in overgrowth of nonsusceptible organisms, including fungi. If superinfection occurs, appropriate therapy should be initiated. Ophthalmic ointments may retard corneal wound healing.
Usage in Pregnancy:
Reproduction studies in three types of animals at doses up to thirty-three times the normal human systemic dose have revealed no evidence of impaired fertility or harm to the fetus due to to- bramycin. There are, however, no adequate and well-controlled studies in pregnant women. Because ani-
mal studies are not always predictive of human response, this drug should be used during pregnancy only if clearly needed.
Nursing Mothers:
Because of the potential for adverse reactions in nursing infants from TOBREX®, a de- cision should be made whether to discontinue nursing the infant or discontinue the drug, taking into account the importance of the drug to the mother.
ADVERSE AEACTIONS:
The most frequent adverse reactions to TOBREX Ophthalmic Solution and Ointment are localised ocular toxicity and hypersensitivity, including lid itching and swelling, and conjunctival erythema. These reactions
occur in less than three of 100 patients treated with TOBREX. Similar reactions may occur with the topical • use of other aminoglycoside antibiotics. Other adverse reactions have not been reported from TOBREX therapy; however, if topical ocular tobramycin is administered concomitantly with systemic aminoglycoside antibiotics, care should be taken to monitor the total serum concentration. In clinical trials, TOBREX Ophthalmic ointment produced significantly fewer adverse reactions (3.7%) than did Garamycin Ophthalmic Ointment (10.6 %).
OVER DOSAGE:
Clinically apparent signs and symptoms of an overdose of TOBREX Ophthalmic Solution or ointment (punc- tate keratitis, erythema, increased lacrimation, edema and lid itching) may be similar to adverse reaction effects seen in some patients.
DOSAGE AND ADMINISTRATION:
As indicated by physician:
Solution: In mild to moderate disease, instill one or two drops into the affected eye(s) every four hours. In severe infections, instill two drops into the eye(s) hourly until improvement, following which treatment should be reduced prior to discontinuation.
Ointment: In mild to moderate disease, apply a 1.5 centimeter ribbon into the affected eye(s) two or three times per day. In severe infections, instill a 1.5 centimeter ribbon into the affected eye(s) every three to four hours until improvement, following which treatment should be reduced prior to discontinuation.
TOBREX ointment may be used in conjunction with TOBREX solution.
HOW SUPPLIED:
Sterile solution in 5 ml Drop-Tainer® Dispenser containing tobramycin 0.3 % (3 mg/ml). Discard one month after opening,
Sterile ointment in 3.5 g ophthalmic tube containing tobramycin 0.3% (3 mg/g).
STORAGE:
Store at 8°_ 30°C. Keep container tightly closed.
Keep out of reach of children.
Produced by :
Alcon couvreur belgium
Alcon
ALCON-COUVREUR
B-2870 Puurs (Belgium)
34487-C