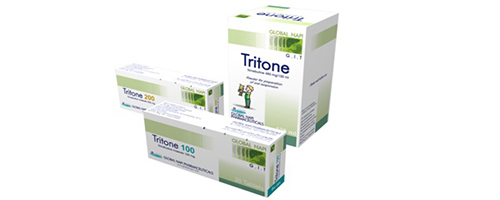 Tritone
Composition :
Tritone 100:
Each Tritone 100 tablet contains 100 mg trimebutine maleate.
Tritone 200:
Each Tritone 200 tablet contains 200 mg trimebutine maleate.
Inactive ingredients for the tablet: Lactose monohydrate, povidone K30 , sodium starch glycolate, colloidal silicon dioxide, Microcrystalline cetlulose, magnesium stearate.
Tritone powder for suspension:
Each 100 ml of Tritone suspension contains 480 mg trimebutine.
Inactive ingredients: Polysorbate 80, sunset yellow, strawberry essence, sucrose.
Pharmacodynamics :
Tritone, trimebutine maleate, is intestinal motility regulator and
autispasrnodic. Tritone, as direct-acting smooth muscle relaxant, reduces spasms, therefore may decrease severe, acute abdominal pain associated with itritable bowel syndrome, especially if it is
postprandial. Tritone is a peripheral enkephalinergic receptor agonist and releases the enkephalins to act on digestive motility, which has analgesic action. Tritone stimulates the intestinal motility (by activating phase of the migrarirrg motor complex MMC) and inhibits spasms due to previous stimulation.
Pharmacokinetics :
Peak plasma concentration in the blood is reached within 1 to
2 hours. Trimebutine undergoes metabolism in the liver as hydrolysis for the ester and also capable of a first-pass metabolism.
Elimination is rapid, principally through urine, average 70% in
24 hours.
Indications :
– Treatment and relief of symptoms associated with irritable bowel syndrome (spastic colon).
– Treatment of pain associated with gastrointestinal and biliary
tract disorders.
– Postoperative paralytic ileus in order to accelerate the resumption of the intestinal transit following abdominal surgery.
– Symptomatic treatment of pain associated with transit troubles,
and intestinal discomfort associated with intestinal function .
Side effects :
Very rare cutaneous reactions have been reported.
Contraindications :
patients with hypersensitivity to trimebutine maleate or any other ingredients.
Precautions :
Pregnancy: Safery is not yet established. It is not recommended to be taken during the first trimester.
Lactation: Not recommended, as safety is not yet established.
Drug – drug interactions :
No drug-drug interactions have been observed during clinical trials or otherwise reported.
Dosage and administration :
The adult recommended dose is from 300 mg up to 600 mg daily in divided doses before meals according to the prescriber's instructions.
Tritone 100 Tablets
One or two tablets 10 be taken three times daily before meals.
Tritone 200 Tablets
one tablets to be taken three times daily before meals.
Tritone powder for suspension
Reconstitute the oral suspension by adding the required amount of water to the mark of the bottle, shake very well to reach the required measure corresponding to the bottle. The dosage is usually I mglkgldaily in 3 divided doses. The measured dose depends on the weight of the child. It is recommended to add the measured dose on the feeding bottle containing milk or water for the baby or on a spoon to be given to a child.
Shake thoroughly the bottle before measuring.
Presentation :
Tritone 100 tablets arc supplicd in boxes of30 tablets each.
Tritone 200 tablets are supplied in boxes ono tablets each.
Store at a temperature not exceeding 30°C, in a dry place.
Tritone powder for suspension is supplied in a bottle of 125 ml
after reconstitution.
Store at a temperature not exceeding 30°C, in a dry place.
A fter reconstitution, store in a refrigerator for not more than 30
days.
Keep out of reach of children
Produced by :
GLOBAl NAPI PHARMACEUTICALS
6 of October City – Egypt