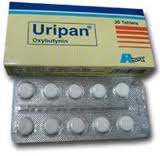 Uripan®
Oxybutynin Chloride
Syrup & Tablets
Composition:
Each 100 gm syrup contains:
Oxybutynin Chloride 100 rnq.
Each tablet contains:
Oxybutynin (as Chloride) 5 mg.
Properties:
Uripan (Oxybutynin) has a pharmacologica properties similar to some anticholinergic antispasmodic, local anasthetic and antlhlstarnink compounds. It exerts anti muscarinic (atropine – like and antispasmodic (papaverine like) actions or smooth muscles. Its antimuscarinic effect is significantly less than that of atropine but it! antispasmodic activity is considerably greater thar atropine, producing an effect on the detrusor muscle 4 -10 times than atropine. Unlike papaverine it doe! not appear to affect the smooth muscles of the blooe
vessels. It is believed that Uripan suppresses the urge te void by increasing the bladder capacity secondar,to relaxation of the bladder smooth muscles and a
corresponding reduction in the number of contractions of the detrusor muscle.
Indications:
Uripan is indicated for the relief of symptoms of bladder instability associated with voiding in patients with neurogenic bladder i.e.: urgency, frequency,
leakage, incontinence and dysuria.
Dosage & administration:
– Adults: 1 teaspoonful or 1 tablet 2-3 times per day, it is recommended not to exceed 4 doses per day.
– Children above 5 years of age: 1 teaspoonful or 1 tablet twice daily, it is recommended not to exceed three doses per day.
– Doses to be taken with meals.
Contraindications:
It is contraindicated for patients with intestinal obstruction, toxic megacolon, severe ulcerative colitis, closed-angle glaucoma, rnyathenia gravis and urinary obstruction.
Adverse reactions:
Most adverse reactions encountered with oxybutynin administration are due to its anticholinergic and antispasmodic activity. These effect include dizziness, flushing, confusion, clumsiness and palpitations. Also drowsiness, respiratory depression or troubles in breathing can be observed. Transient blurred vision, urticaria, constipation, xerostomia and anhydrosis are also rarely reported side effects.
Warning & Precautions:
It should be administered cautiously to patients with coronary artery diseases, congestive heart failure, cardiac arrhythmias and hypertension, autonomic
neuropathy, hepatic diseases or renal diseases. It should also be used cautiously with drugs with antimuscarinic properties; CNS-depressants,
parasympathomimetics ketoconazole and opiate agonists. Its use during pregnancy and breast-feeding has not been established. Store below 3D· C away from direct sunlight & keep out of the reach of children.
Pack:
Bottle of 120gm syrup or box of 2 strips each
containing 10 tablets.
Manufactured by :
ADWIA Co. S.A.E.
10th of Ramadan City
EGYPT