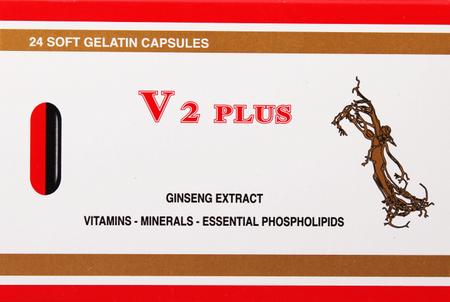 V2 PLUS
SOFT GELATIN CAPSULES
GINSENG EXTRACT
VITAMINS-MINERALS
ESSENTIAL PHOSPHOLlPIDS
COMPOSITION :
Each capsule contains:
Ginseng extract                50.0 mg
Vit . A (Palmitate)            5000 I.U.
Vit. D3                                400 I.U.
Vit . E                                  30.0 mg
Vit . B1                                5.0 mg
Vit . B2                                5.0 mg
Vit . B6                                2.0 mg
Vit. B12                               3.0 mcg
Vit . C                                  75.0 mg
Folic acid                             0.4 mg
Calcium-D-pantothenate 5.0 mg
Nicotinamide                     25.0 mg
Inositol                               40.0 mg                                                        Essential phospholipids    10.0 mg
D(+) Biotin                         0.015 mg
Molybdenum                     0.2 mg
Iodine                                  0.15 mg
Copper                                 1.0 mg
Manganese                          1.0 mg
Zinc                                       1.2 mg
Potassium                            5.0 mg
Magnesium                          6.0 mg
Iron                                      10.0 mg
Calcium &                            88.2 mg
Phosphorous                      68.1 mg
Safflower oil                        200.0 mg
PROPERTIES :
V2 PLUS is a comprehensive well-balanced and well-tolerated formula containing Panax ginseng extract, in addition to vitamins, minerals, trace elements and lipotropics. Ginseng extract stimulates and ameliorates physical and intellectual capacity.improves the psychomotor performance with evident antifatigue properties.it acts directly on body cells promoting DNA and protein synthesis and the specific activities of enzymes associated with cellular metabolism .Ginseng potentiates T cell-mediated immunity and enhances the natural body resistance. Vitamins and minerals are essential factors for nutrition, tissue-repair, growth and prevention of hemorrhage. They participate in many vital enzyme systems including the
oxidation- reduction processes and in maintaining the vitality of blood-forming organs, healthy epithelium and bones. Vitamin B12, folic acid, inositol and essential phospholipids , thelipotropic
agents,stimulate the mobilization of excess fat from the liver
These properties collectively make V2 PLUS the optimum nutritional regimen of such vital elements to keep the body in utmost vitatlity and stimulate, to the best,the functions of all organs with a touch of super-activity.
INDICATIONS :
– Deficiency of vitamins and minerals as in malnutrition, anemia, anorexia and cachexia
– Patients on restricted diets.
– Geriatrics.
– Febrile diseases.
– Fatigue, weakness and exhaustion due to physical and mental overstress.
– Convalescence following surgery, or disease, to strengthen normal defense mechanisms.
– Polyneuritis, hepatic disorders, diabetes mellitus and alcoholism.
DOSAGE :
One capsule or more daily.
PACKING :
A box contaming 24 and 30 soft gelatin capsules.
STORAGE :
Keep in a cool and dry place.
Keep out of the reach of children.
PRODUCED BY :
pharco pharmaceuticals alexandria – egypt