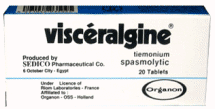 Visceralgine
5 mg/2ml
Injectable solution in ampoules for I.M or I.V
Composition:
Each 2 ml – ampoule contains:
Tiemonium methylsulfate     5 mg .
Pharmacological Properties:
Tiemonium: mixed antispasmodic:
– Musculotropic.
– Anticholinergic (1/50 of the effect of atropine at identical molar concentration).
Pharmacoklnetic Properties:
(In man)
IV injection half-life distribution: 6 min; half-life of elimination: 1 hour.
Fecal elimination: 11.4% in 72 hours.
Indications:
– Symptomatic treatment of acute pain related to functional disorders of the digestive tract and biliary system.
– Treatment of spasm and pain in the urinary tract and in gynaecology.
– Symptomatic treatment of renal colic.
Contra-indications:
Urethroprostatic disorders involving a risk of urine retention.
Risk of angle-Closure glaucoma.
Warnings:
None.
Precautions For Use:
IV Injection should be slow to reduce the risk of tachycardia.
Use During Pregnancy And Breast Feeding:
– The results of animal studies of tiemonium did not reveal any teratogenic effects. Although these results do not prejudge the effects in man, no deformities have been reported up till now with normal use.
– In the absence of sufficient data, prudence should be the rule for nursing mothers
although no problems have been reported with normal use.
Effect On Ability To Drive Vehicles Or Operate Machines:
None.
Interactions With Drugs And Other Interactions:
None.
Major In compatibilities:
None.
Undesirable Effects:
Risk of hypotension and tachycardia if injection is rapid.
Dosage And Method Of Administration: 
In adults, the usual dosage is one ampoule by slow IM or IV injection, three times 124 hours.
Note:
The effect of the injectable form may be reinforced by administration of 1 or 2
suppositories /24 hours.
Overdose:
Symptoms: Appearance of atropine-like action: dry mouth, constipation, tachycardia and confusion in elderly patients .
Treatment: Symptomatic treatment in an intensive care unit.
Storage:
Keep at temp. not exceeding 30 0 C.
Keep medicine out of reach of children.
Presentation:
A box containing 3 ampoules.
Under Licence Of:
RIOM LABORATORIES – FRANCE AFFILIATED TO:
ORGANON – OSS HOLLAND
Produced by :
SEDICO Pharmaceutical Co.
6 October City – Egypt