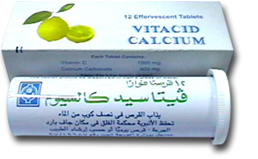 Vitacid Calcium
Effervescent Tablets
COMPOSITION:
Each effervescent tablet contains:
Vitamin C (Ascorbic acid)                        1000 mg
Calcium carbonate                                      800mg
(Equivalent to 320 mg elemental calcium)
Properties:
Vitacid Calcium effervescent tablets is formulated in a highly absorbable form,
with lemon flavor . it is very well tolerated by adults and children. Vitamin C is an essential eo-enzyme for collagen formation, tissue repair and synthesis of lipids and proteins. It acts both as a reducing agent and as antioxidant. It is necessary for many physiologic functions e.g. metabolism of iron, carbohydrate and folic acid, resistance to infection, cellular respiration and
preservation of blood vessel integrity. Calcium is an essential body electrolyte for formation and maintenance of bone matrix, cartilages and dental structure.
Calcium carbonate is effective in management of hypocalcemia and calcium
deficiency states resulting from dietary deficiency or aging.
Indications & Usage:
– Symptoms of vitamin C deficiency such as gingivitis, bleeding gums, loosened
teeth and hemovascular disorders.
– Prevention and treatment of scurvy.
– Vitamin C and calcium requirements are also significantly increased in pregna.ncy and lactation.
– Burns and delayed fracture and wound healing.
– Symptomatic relief of common cold and influenza (it prevent common cold
and shortens its duration).
Contra-indications:
– History of hypersensitivity to vitamin C.
– Conditions associated with hypercalcemia or hypercalciuria (some malignant diseases).
Side Effects:
– Gastro-intestinal disturbance.
– Excessive amounts of cal~ium salts may lead to hypercalcemia in susceptible patients.
– Bradycardia and arrhythmia may rarely occur with oral calcium supplement.
Drug Interactions:
– Acidification of urine of vitamin C may cause precipitation of urate or oxalate
stones and will alter the excretion of certain drugs administered concomitantly.
Vitamin C may produce false results of urinary glucose test in diabetics.
Large doses of vitamin C may interfere with anticoagulant effect of Warfarin.
Calcium salts reduce absorption of ciprofloxacin, tetracycline,bisphosphonates
and thyroxin.
– With thiazide diuretics: increase risk of hypercalcemia.
Warnings & Precautions:
Vitacid Calcium should be used cautiously in the following cases:
– Patients on sodium restricted diets.
– Diabetics.
– Patient taking anticoagulants.
– Recurrent or history of renal calculi.
– Impaired renal function.
– Sarcoidosis.
Vitamin C should be used in the therapeutic dose during pregnancy and lactation.
Dosage & Administration:
1 effervescent tablet to be taken in half a glass of water daily or as prescribed
by the physician.
Packing:
Boxes of 12 effervescent tablets.
Storage:
Keep the tube tightly closed.
Store below 30°C & R.H. below 70%
(The cover of the tube contains a substance which absorbs moisture)
Product of :
Chemical Industries Development (CID)
Giza – A.R.E.