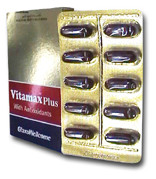 Vitamax Plus
Soft Gelatin Capsules
Compisition :
Each soft gelatin capsule contains:
Arginine                              20 mg.
Boron                                  130 mcg.
Biotin                                  60 mcg.
Pollen                                  25 mg.
Chromium                          50 mcg
Copper                                2 mg.
Calcium                               55 mg.
Folic acid                            400 mcg.
Ginseng                              40 mg.
Iron                                     9 mg. 
Iodine                                 150 mcg.
Lysine                                 20 mg.
Magnesium                        35 mg.
Manganese                        5 mg.
Molybdenum                     30 mcg.
Nickel                                 4 mcg.
Niacinamide                      20 mg.
Potassium                         10 mg.
Pantothenic acid               10 mg.
Vitamin B2                       5.1 mg.
Royal jelly                         3.33 mg.
Safflower oil                      30 mg.
Selenium                           50 mcg.
Soy phosphatides             90 mg.
Vitamin B1                        4.5 mg.
Vitamin A                          5000lU
Vitamin E                          180 lU
Vitamin C                          150 mg.
Vitamin B6                        4 mg.
Vitamin B12                      12 mcg.
Vitamin D                          400 lU
Vanadium                         15 mcg.
Wheat-Germ oil               50 mg.
Zinc                                    15 mg.
Phosphorous                     25 mg.
Indications :
Dietary supplement of vitamins and minerals.
Dosage :
Unless otherwise prescribed, the usual dose is one capsule daily or every other day after breakfast.
Precautions & warnings :
– Caution should be taken in patients with cardiovascular disease or
dialietes.
– Hvpertension resu tAg from ginseng abuse syndrome is associated with prolonged high doses-ef-qlnsenq with concomitant use of caffeine.
– General adverse effects include insomnia, epistaxis, headache,
nervousness and vomiting.
– Mastalgia with diffuse breast nodularity has been reported.
– Should be avoided in pregnancy and lactation.
– Contraindicated with anticoagulant and diabetic therapy.
– Contraindicated with phenelzine (MAO Is) as it may cause headache tremors and mania.
– Contraindicated with loop diuretics.
– The feaces of patients taking iron salts may be colored black.
– Shouldn't be taken by patients with sensitivity of pollen grains.
– Keep out of reach of children.
Package :
Box containing two Al/PVC strips (10 capsules/ strip) and inner leaflet.
Storage :
Store below 25°C in dry place.
Dietary supplements are not intended to diagnose, treat, cure, or prevent any disease.
Manufactured by :
GlaxoSmithKline S.A.E – El Salam City- Cairo-Egypt.