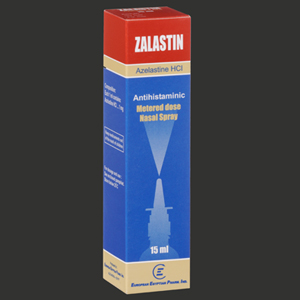 Zalastin Nasal Spray
Composition:
Each 1 ml contains:
Azelastine hydrochloride     1 mg.
Properties:
Azelastine Hel is a second generation antihistamine characterized by a rapid onset and a long duration of action. It inhibits the release of inflammatory mediators of mast cells.
Indications:
Zalastin Nasal Spray is indicated for the treatment of symptoms of seasonal or perennial allergic rhinitis such as rhinorrhea, sneezing and nasal pruritus in adults and children 5 years and older.
Dosage:
– The recommended dose of ZALASTin Nasal Spray is:
Adults an ctiilClren 12yeals and oloertWo sprays (1ll1YlJg/spl'ay) perrrostril twice daily.
Children 5-11 years old: one spray per nostril twice daily.
– Before initial use, the unit should be primed with 4 sprays or until a fine mist appears. If it is not used for more than 3 days, the unit should be reprimed with 2 sprays or until a fine mist appears.
– Before using the nasal spray, the nasal passages should be cleared. Close one nostril, press and sniff deeply and breath out through your mouth.
Adverse Effects :
Irritation of nasal mucosa, bitter taste, drowsiness, tiredness, dry mouth, skin rash, abdominal pain or anorexia may occur.
Contraindications:
Azelastine hydrochloride is contraindicated in patients with known hypersensitivity to azelastine hydrochloride.
Precautions:
– Activittes requiring mental alertness: Somnolence has been reported in some patients taking azelastine hydrochloride; caution should therefore be exercised when driving a car or operating potentially dangerous machinery.
– Pregnancy: There are no adequate and well-controlled clinical studies in pregnant women. Azelastine hydrochloride should be used during pregnancy only if the potential benefit justifies the potential risk to the fetus.
– Nursing mothers: It is not known whether azelastine hydrochloride is excreted in human milk; caution should be exercised when azelastine hydr.ochloride is adrntmstered to a nursing woman.
– Pediatric use: Safety and efficacy of azelastine hydrochloride in pediatric patients below the age of 5 years have not been established.
Drug Interactions:
Concurrent use of azelastine hydrochloride with alcohol or other CNS depressants should be avoided because additional reduction in alertness and additional impairment of eNS performance may occur.
Pack:
A bottle containing '15 ml (100 metered dose).
PRODUCED BY:
EUROPEAN EGYPTIAN PHARMACEUTICAL INDUSTRIES
ALEXANDRIA·EGYPT