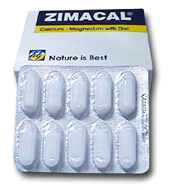 ZIMACAL
Film Coated Tablets
Calcium – Magnesium with Zinc
Composition:
Each Film Coated Tablet Contains:
Active ingredients:
832.5 mg Calcium Carbonate Eq. to 333.3 mg Elemental Col
6.223 mg Zinc Oxide Equivalent to 5 mg Zinc
220.5 mg Magnesium Oxide Eq. to 133 mg Magnesium
Indications:
Dietary Supplement of Ca , Mg and Zinc.
Precautions:
Acute and chronic renal impairment.
Dosage:
One Tablet 2 times daily.
Packing & Storage:
– Carton Box contains 3 (Aluminum I PVC) Strips, each contains 10 Film Coated Tablets and inner leaflet
– Store at temperature not exceeding 30 c in adry place
– keep out of reach of children
produced by :
arab combany for gelatin and pharmaceutical products (arab caps) for health line international HLI. combany