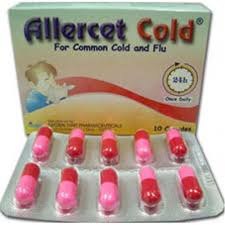 Allercet Cold
For Common Cold and Flu
Composition:
Each capsule contains:
Cetirizine Hel                            10mg
Pseudoephedrine Hel              30mg
Paracetamol                              400mg
 Pharmacodynamics:
AII.reel Cold is a combination of 3 active ingredients,  cetiriaine as an!ihistamine.seudoe.Qhedrine decongestant & paracetamol as analgesic & antipyretic.  Cetirizine Hydrochloride, antihistamine. is a piperazine  derivative & mctabolitc of hydroxyzine. It is a non-sedating, selective antagonist of the peripheral
histamine (Ht) receptor, with free anticholinergic & antiserotonergic effects.
It is reported to be long-acting & with some mast-cell stabilising activity. It inhibits the histamine-mediated 'early' phase of ~he allergic reaction & also reduces the migration of inflammatory cells & the release of mediators associated with the 'Iatc' allergic response.
Pseudoephedrine.xlecongestant, is a sympathomimetic. with direct & indirect effects on adrenergic receptors. It has alpha (a) & beta adrenergic activity & has
pronounced stimulating effects on the central nervous system. Due to its a-adrenergic effects, intense vasoconstriction to mucous membranes occurs causing decongestion.Constriction in the mucous membranes results in their shrinkage; this promotes drainage, thus improving ventilation & nasal sruffiness. It has longer duration of action,less local irritation & not associated with rebound congestion.
Paracetamol has analgesic, antipyretic properties & weak anti-inflammatory activity.
AII.n:et Cold relieves the symptoms associated with common cold, sinusitis or flu.
Indications:
Relief symptoms associated with common cold, sinusitis or flu such as:
– Nasal congestion, runny nose.
– Sneezing, itchy, watery eyes.
– Itching of the nose or throat.
– Swelling of nasal passages.
– Sinus congestion & pressure, thus, temporarily restores free breathing through the nose.
– Headache, minor body aches, & pain associated with cold.
Side effects:
Reports of mild & transient side effects such as headache, dizziness, drowsiness, agitation, dry mouth & gastrointestinal discomfort. The most common side effects of pseudoephedrine include tachycardia, increase in blood pressure, anxiety,
restlessness, & insomnia; skin rashes & urinary retention.
Contraindications:
Known hypersensitivity reactions to any of the componena.of-the product. Severe hypertension, coronary artery disease. Patients taking monoamine oxidase inhibitors.
Precautions:
Should be given with care to patients with impaired kidney or liver function. & patients with alcohol dependence.
Pregnancy: Safety for use during pregnancy bas not been established. Use only when clearly needed & when the potential benefits outweigh the potential hazards to the fetus. Do not use during the third trimester.
Lactation: As it is excreted in breast milk, avoid in lactating women. Patients are advised not to exceed the recommended dose if driving or operating machinery.
Care in patients with hypertension or other cardiovascular diseases or hyperthyroidism. Seek medical advice if nasal congestion lasts for more than 7 days, fever lasts for more than 3 days, & symptoms continue or get worse.
Dosage & administration:
Adults & children over 12 years of age : One capsule to be  taken once daily or as directed by the doctor.
Presentation:
allercet Cold capsules are supplied in boxes of 10 capsules each.
Store at a temperature not exceeding 30°C. in adry place.
I Keep out of reach of children I
PRODUCED BY :
GNP GLOBAl. NAPI PHARMACEUTICAlS