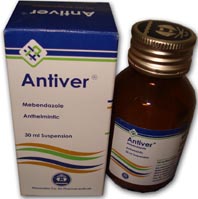 Antiver
Mebendazole Suspension
Anthelmintic
Composition:
Each teaspoonful (5 ml) contains:
Mebendazole     100 mg
Properties:
Antiver is a broad Spectrum anthelmintic It contains Mebendazole which possesses vermi£dal 81)9 ovicidal activities with a high cure rate against most gastrointestinal tract (GIT) helminths and their ova. Mebendazole selectively and irreversibly blocks glucose uptake by adult worms and larvae through inhibiting the formation of the worms microtubules. Consequently, the energy sources, glycogen and ATP are depleted in the worms, leading to their immobilization and death.
Mebendazole is poorly absorbed from GIT, thus giving effective concentrations to act locally on the worms. This property ensures high efficacy, excellent tolerability and makes Antiver the drug of choice in single and multiple helminth infections of GIT.
Indications & Usage:
Antiver is the anthelmintic of choice for the treatment of infections with:
Oxyures, Enterobius vermicularis,                ( Pinwonn)
Ascaris lumbricoides                                        (Roundworm)
Ankylostoma duodenale                                  (HOOkworm)
Trichuris trichiura                                            (Whipworm )
Strongyloides stercoralis                                 (Threadworm)
Taenia spp.                                                         (Tapeworm)
Mixed helminth infections.
Contra-indications :
As with other preparations containing mebendazole, the drug is contra-indicated during pregnancy.
Side Effects:
No side effects have been reported.
Dosage & Administration:
As directed by the physician or as follow:
the same dosage regimen applies to adults and children over two years
Enterobiasis : one teaspoonful 5 ml as asingle dose repeated after two or three weeks.
Ascariasis, Ankylostomiasis, Trichuriasis and Mixed infections:
One teaspoonful ( 5 ml ) moming and evening for three consecutive days.
Strongyfoidiasis and Taeniasis:
Two teaspoonful ( 10 ml ) morning and evening for three consecutive days.
N.B: No special dietary measures, fasting or purging are required before or after the treatment with Antiver suspension.
Packing:
Carton box contains a bottle of 30 ml
Storage:
Store in airtight container away from light in a temperature not exceeding 25°C.
– Medicament is a product which affects your health, and its consumpbon contrary to instructions is dangerous for you.
– Follow striCtly the doctor's presoipbon, the method of use and the instructions of the pharmacist who sells the medicament.
– The doctor and the pharmacist are experts in medicine. it's benefits and risks.
– Do not by yourself interrupt the period of treatment prescribed for you.
– do not repeallhe same prescription without consulting your doctor.
– Keep medicament out of reach of children
produced by :
alexandria co.for pharmaceuticals alexandria A.R.E