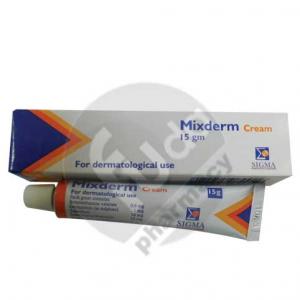 Mixderm
Topical cream
Generic name:
Betamethasone valerate, Gentamicin sulphate, To/naftate and Clioquinol.
Composition:
Betamethasone valerate 0.6 mg equivalent to 0.5 mg betamethasone
Gentamicin sulphate     1.7 mg equivalent to 1.0 mg gentamicin
Toinaftate                                      10 mg
Clioquinol (lodoc:tUorhydroxyquln)     10 mg
Inactive Ingredients:
Chlorocresol, Texofor AlP, Cetostearyl ak:ohoi, White petrl:Xalum, Sodium biphosphate, Mineral oil. Sodium hydroxide and Purified water.
Pharmaceutical form:
Topical cream (for external use only)
Pharmacological action:
Mixderm is a topical cream, it combines:-
– Betamethasone valerate: anti-inflammatory. anti-pruritic and vasoconstrictive agent
– Gentamicin sulphate:-wide spectrum anbbiotic that PI'1NideS highly effective loptcaI treatment In primary and secondary bacterial infections of the skin.
– Tolnaftate: fu~icidal agent
– Clloquinol: antibacterial and antifungal agent.
Indications:
Mlxderm cream is indicated for:
the relief of the inflammatory manifestations of corticosteroid-responsive dermatoses when complicated by secondary infection caused by organisms sensitive to the components of this dermatologic preparation, titis of extremities, erythrasma, balanoposthitis, herpes zoster, eczematoid dermatitis, contact dennatitis, follicular dermatitis, dyshidrosis, paronycNa, anal pruritus, sebontletc eczema, intertrigo, seborrheic dermatitis, pustular ecoe. impetigo, neurodermatitis, angular stomatitis,photosen!itivitdermatftls, Iichenified inguinal dermatophytosis end bnea infections such as tinea pedis, tinea cruris and tinea corporis
Dosage and administration:
A thin film of Mixderm cream should be applied 10 cover complelely Ihe affected area two or three limes daily, or as prescribed by the physician.
– Frequency of application should be detennined according to severity of the condition.
– Duration of therapy should be determined by patient response. In cases of tinea pedis kmger therapy (2-4 weeks) may be necessary.
Overdosage :
Symptoms: Excessive or prolonged use of topical corticosteroids can suppress piluitary-adrenal function, resulting in secondary adrenal insufficiency, and produce manifestations of hypercorticism, including Cushing's disease.
A single overdose of gentamicin would nol be expected 10 produce symptoms.
Excessive or prolonged use of topical antibiotics may lead to oV6fgrowth of Iesio(Is by oonsusceplible organisms. Systematically, tolnaftale is phannacologically inactive.
Clioquinol rarely pecdoces iodism. Treabnent Appropriale symptomatic treatment is indicated. Acute hypercorticoid symptoms are usually reversible. Treat eleclrotyte imbalance, if necessary. In case of chronic toxicity, slow withdrawal of corticosteroids is acMsed. If overgrowth by nonsusceptible organisms occurs, stop treatment with Mixderm Cream and institute appmpriate therapy.
Contralndlcations:
Mlxdenn cream is contraindicated in patients with a history of sensitivity reactions to any of its components.
Side effects:
Local side effects reported with the use of topical cortcoeterocs. especiaUy, under oa:Iusive dressings,perioral dermatitis, allergic oontact dermatrtis, maceration of the skin, secondary infection, skin atrophy, stria and miliaria.
Rash, irritation and hypersensitivit have been reported with the topical usage of gentamicin sulfate, cIioquinol and rarely with tolnaftate.
Pregnancy and lactation:
Pregnancy: Since safety of topical corticosteroid use in pregnant women has not been established, topical creams containing corticosteroid should be used during pregnancy only if the potential benefit justifies the potential risk to the fetus. Drugs of this cess should not be used extensively in large amounts or for prolonged
periods of time in pregnant patients. uctati.on: Since it is not known whe~r topica.l .adr.ninistration of ~teroids can result in sl!fficie~t nursing or to discontinue the drug, taking into account the importSllCe of the drug to the mother.
Precautions and warnings:
My of the side effects that are reported tonowing systemic use of corticosterotds, including adrenal suppression, may also occur with topical cortic:osteroicls, espec:ialty in infants and children. Syst8fric absorption of topical corticosteroids will be increased if extensive body surface areas are treated or if the ocdusive technique is used. Suitable precautions should be taken under these conditions or when
long-term use is anticipated, particularly in infants and chiklreo.
Systemic absorption of topically applied gentamicin may be increased if extensive body surface area is
Patient Instructions:
Mixderm cream is for external use only.
Mixderm cream contains dloquinol, whictl may stains skin and clothing
d0 not apply to initated skin or if excessive irritation develops.
Mlxdenn cream is not for ophthalmic use, if eye contact occurs, immediately wash out the eye with water or saline.
Keep out of read'! of children.
Package and storage:
A carton box containing Aluminum cdlapsible tube of 15 g. cream, fitted with plastic cap.
Stext at tem     ture not exceeding 3O·C.
Produced by:
SIGMA Pharmaceutical Industries . Egypt. SAE.