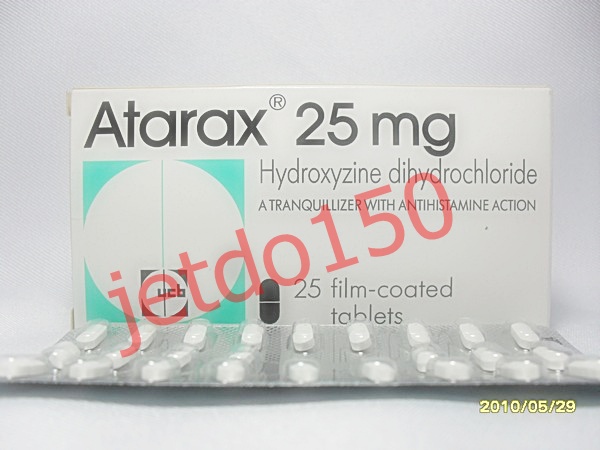 Atarax
Tablets
Composition:
Each tablet contains:
Hydroxyzine hydrochloride                  10 or 25 mg
Properties:
Hydroxyzine hydrochloride is a piperazine antihistaminic derivatives acting by
diminishing the main action of histamine by oompetitive reversible blockade of histamine receptors sites H1 in the tissues. Hydroxyzine has anxiolytic properties and is used for the relief of anxiety and tension. It is not a cortical depressant. but its action may be due to a suppression of activity in certain key regi.Q[ls of the subcortical area. Hydroxyzine possesses other pharmacological properties which include antiemetic, sedative and antimuscarinic effects.
Pharmacokinetics :
Oral hydroxyzine is rapidly absorbed from the G.I. tract. Clinical effects are
usually noted within 15 to 20 minutes after administration. Following a single 100 mg oral dose, peak levels of 82 micrograms Iml where reached in about 3 hours . Mean elimination half – life is 3 hours and may be longer specially in elderly patients. Hydroxyzine is mainly metabolized in the liver, metabolites
include cetirizine which has Hl antagonist activity.
Indications:
– Atarax is a drug of choice in the treatment of many dermatologic allergies specially those associated with ruritis
– Atarax is inolca e or e symp oma le re le 0 anxie y an ens Ion I ana as an
adjunct in organic disease states in which anxiety is manifested e.g.in cardiac patients to allay anxiety.
– Atarax is used as a sedative in . Premedication. Following general anesthesia.
– Atarax has antiemetic effect and is used in :
Post operative nausea and vomiting
Motion sickness and vertigo.
Contraindications :
– Hypersensitivity to hydroxyzine.
– Pregnancy specially in early months and lactation.
– Patients with acute porphyria .
Side effects:
– Dry mouth or drowsiness may occur, it is usually mild and transitory .
– With higher doses, involuntary motor activity may be seen.
– Hypersensitivity reactions have occurred.
– Some alterations of T -waves may occur in ECG.
Drug interactions:
– Hydroxyzine may enhance the sedative effects of CNS depressants.
– Hydroxyzine has an additive antimuscarinic action with other antimuscarinic drugs, such as atropine and some antidepressants,
Warnings and precautions:
– As Atarax may potentiate the effect of CNS depressant drugs, their dosage should be reduced by 50% .
– The dosage should be adjusted on individual basis in preanesthetic medication and in elderly patients.
– Use with caution in closed angle glucoma , urine retention , prostatic hypertrophy or pyloroduodenal obstruction.
– In primary biliary cirrhosis adjust frequency, once daily, as elimination half-life is prolonged.
Dosage & administration:
Adults
– Pruritus: 25mg three or four times a day.
– Anxiety: 50 to 100 mg four times a day.
– Pre and post opm'ative sedation: 50 to 100rTfg .
Children:
– Over 6 years, initial dose 10 to 25 mg daily increased if necessary to 50 or 100
mg in divided doses.
– Pre and post operative sedation: 0.6 mg 1 kg body weight
Packing:
Atarax tablets 10 mg :     Boxes of 20 tablets
Atarax tablets 25mg     Boxes of 20 tablets
Storage :
Store below 30'C and R. H. below 70%
Madicament is.a produd which affects )JDUf heam't, and Its consumption
contraty 10 instructions is dangerous for you.
FoIow strictty the doc:tor's prescription, the method of use and the
instructions of the pharmacist who sales the medicament.
The doctor and the pharmacist are experts in medicine. it's benefits
and risks.
Do not by yourseff rnerrupt the period of treatment presaibed for you.
00 not repeat the same prescription WIthout consultlng your doctor.
Keep medicamerlt out of children reach
Ccud of Anb 1-tMIh •••••••• 1t'd ur.on of Anb PNm–.
Produced by:
Chemical Industries Development (CID) – Giza – A.R.E.