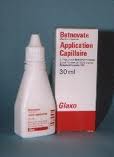 Betnovate'
SCALP ApPUGATION
PRESENTATION:
Betnovate Scalp Application is a transparent, slightly gelled solution
containing 0.1% w/w betamethasone as valerate. Thevehicle contains
39.3% w/w of isopropyl alcohol, which has antibacterial activity. This
preparation complies with the specification for Betamethasone valerate
Scalp Application, BP.
USES:
-Steroid-responsive dermatoses of the scalp, such as psoriasis and seborrhoeic dermatitis.
-Inflammation associated with severe dandruff.
DOSAGE AND ADMINISTRATION:
A small quantity of Betnovate Scalp Application should be applied to the scalp night and morning until improvement is noticeable. It may then be possible to sustain improvement by apply- ing once a day, or less frequently.
CONTRA-INDICATION / VlARNINGS.
Contra-indications:
Infections of the scalp. Hypersensitivity to the preparation. Dermatoses in children under one year of age, including dermatitis.
PRECAUTIONS:
Care must be taken to keep the preparation away from the eyes. Do not use
near a naked flame. Long term continuous topical therapy should be avoided where possible, particular(y in mrants and children, as adrenal suppression can OCEur even without occlusion. Topical corticosteroids may be hazardous in psoriasis for a number of reasons including rebound relapses, development of tolerance, risk of generalized pustular psoriasis and development of local or sy.stemic toxicity due to impaired barrier function of the skin. If used in psoriasis, careful patient supervision is important. Development of secondary infection requires withdrawal of topical corticosteroid therapy and commencement of appropriate systemic antimicrobial therapy.
Appropriate antimicrobial therapy should be used whenever treating
inflammatory lesions, which have become infected. Bacterial infection is encouraged by the warm, moist conditions induced by occlusive dressings, and so the skin should be cleansed before a fresh dressing is applied.
Topical administration of corticosteroids to pregnant animals may cause
abnormalities of fetal development. The relevance of this finding to human
beings has not been established. However, topical steroids should not be
used extensively in pregnancy i.e. in large amounts or for prolonged periods.
SIDE EFFECTS
Adverse events are listed below by sy.stem-organ· class and frequency.
Frequencies are defined as: very common (~1/10), common (~lJ100 and
<1/10), uncommon (1/1000 and <1/100)' rare (~1/10,OOO and <1/1000) andvery rare «l/lO,OOO) including isolated reports. Ikry common, common and uncommon events were generally determined from clinical trial data. The
background rates in placebo and comparator groups were not taken into
account when assigning frequency categories to adverse events derived
from clinical trial data, since these rates were generally comparable to those
in the active treatment group. Rare and very rare events were generally
determined from spontaneous data.
Immune system disorders:
Ikry rare: Hypersensitivity.
If signs of hypersensitivity appear, application should be stopped immediately.
Endocrine disorders:
Ikry rare: Features of hypercortisolism. As with other corticosteroids, prolonged use of large amounts or treatment of extensive areas, can.result in sufficien systemic absorption to produce the features of hypercortisolism. This effect is more likely to occur in infants and children, and if occlusive dressings are used.
Skin and subcutaneous tissue disorders:
Common: Local skin burning and pruritus. Ikry rare: Local atrophic changes, allergic contact dermatitis, pustular psoriasis. Local atrophy may occur after prolonged treatment. In very rare instances, treatment of psoriasis with corticosteroids (or its withdrawal) is thought to have provoked the pustular form of the disease.
OVERDOSAGE :
Acute overdosage is very unlikely to occur, however, in the case of chronic
overdosage or misuse, the features of hypercortisolism may appear and, in
this situation, topical steroids should be discontinued gradually under
medical supervision because of the risk of adrenal insufficiency.
'PHARMACEUTICAL PRECAUTIONS: .
Store below 250C
PACKAGE QUANTITIES:
Plastic squeeze bottles of 30 ml.
FURTHER INFORMATION:
The least potent corticosteroid which will control the disease should be
selected. The viscosity of the scalp application has been adjusted so that
the preparation spreads easily without being too fluid. The specially
designed bottle and nozzle allow easy application direct to the scalp
through the hair.
Betnovate is a trade mark of the GlaxoSmithKline group of companies.
IKEEP ALL MEDICAMENTS OUT OF THE REACH OF CHILDREN I
Manufactured by:
GlaxoSmithKline S.A.E. El Salam City, Cairo, A.R.E.
Under License-from the GlaxoSmithKline group of compan es
• GlaxoSmithKline