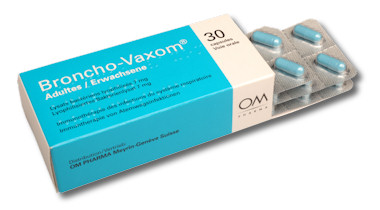 Broncho-vaxom®Adults / Children
COMPOSITION :
a) Active principle:
Lyophilized bacteriallysates of Haemophilus influenzae, Diplococcus pneumoniae, Klebsiella pneumoniae and ozaenae, Staphylococcus aureus, Streptococcus pyogenes and viridans, Neisseria catarrhal is.
b) Other ingredients:
-Capsules: antiox. propyl gallate (E 310), glutamate, indigotine (E132), excipients for capsule .
– Sachets: antiox. propyl gallate (E 310), glutamate, excipients for sachet.
PHARMACEUTICAL FORMS AND QUANTITIES OF ACTIVE PRINCIPLE
– Capsules for adults    : 40 mg oisla ardizeUJyaphilizale corresponding to 7 mg of Iyophilizate bacteriallystates.
– Capsules and Sachets for children: 20 mg of standardized Iyophilizate corresponding to 3.5 mg of Iyophilizate bacteriallystates.
INDICATIONS! POSSIBILITIES OF USE :
Immunotherapy
Prevention of recurrent infections of the airways and acute infectious exacerbations of chronic bronchitis. Comedication in the treatment of acute airway infections.
POSOLOGY! METHOD OF ADMINISTRATION
Adults:
Preventive treatment and! or consolidation therapy: one capsule daily on an empty stomach during 10 consecutive days per month for 3 months.
Treatment of acute episodes: one capsule daily on an empty stomach until disappearance of the symptoms (but for ~ast 10 days). In cases in wbich al].tibJatics are needed the a rmrus ra Ion OfBI'oncho-Vaxomf) should be associated preferably from the start of therapy.
Pediatrics (Children aged from 6 months to 12 years):
Same treatment schedule as for adults, one capsule Broncho-vaxoms Children or one
sachet Broncho-vaxoms containing half the dose of Broncho-Vaxorns Adults.
Note: If a child has difficulty in swallowing the capsules, it can be opened and its content may be poured into a drink (water, fruit juice, milk, etc., … ). In this case, the sachet form, better adapted to pediatric use, should be preferred. The content of the sachet must be poured into a drink (water, fruit juice, milk, etc., … ).
Once the content of the sachet is dissolved, the preparation must be swallowed immediately. Do not conserve the mixture.
CONTRA·INDICATIONS
Hypersensitivity towards the active principle or one of the excipients of Broncho-vaxoms indicated in the composition.
SPECIAL WARNINGS AND PRECAUTIONS
On the basis of present knowledge, the administration of Broncho-Vaxom to children aged less than 6 months is not recommended, because of the immaturity of their immune system.
INTERACTIONS
No drug interaction is known up to now.
PREGNANCY AND BREAST FEEDING
No clinical data on the use of the product in pregnant women is available. Studies in animals did not reveal direct or indirect toxic effect on the pregnancy, embryonal! foetal or post-natal development. As regards breast feeding, no specific studies have been performed and no data have been reported up to now. The product should be administered cautiously during pregnancy and breast feeding.
EFFECTS ON ABILITY TO DRIVE AND USE MACHINES
Broncho-Vaxom«> does not have any influence on ability to drive and use machines.
UNDESIRABLE EFFECTS
The overall incidence of undesirable effects in clinical trials lies between 3 – 4%.
Gastrointestinal troubles (nausea, abdominal pain, vomiting), skin reactions (rash, urticaria), and respiratory disorders (coughing, dyspnea, asthma), as well as generalized problems (fever, fatigue, allergic reactions) are the most frequent complaints reported. In case of lasting gastrointestinal disorders, treatment should be interrupted. In case of long-lasting skin reactions and respiratory problems, the treatment should be interrupted as these may constitute allergic reactions.
OVERDOSE
No case of overdose known up to now. Due to the nature of Broncho-Vaxom«> and the results of toxicity tests performed in animals, an overdosaqe seems impossible to teach.
PROPERTIES I EFFECTS
ATC code: Ra7AX – Other respiratory system products.
In humans, an increase in the rate of circulating T-Iymphocytes, in salivary IgA, in the non- specific response to polyclonal mitogens and in the mixed Iymphocyte reaction have been observed
PHARMACOKINETICS
No experimental model available up to now.
PRECLINICAL DATA
In animals, an increased resistance towards experimental infections, a stimulation of
macrophages and B- Iymphocytes as well as an increase in immunoglobullns secreted by the respiratory mucosal cells have been reported.
Extensive toxicity studies have not revealed any toxic effect.
PARTICULAR REMARKS
In compatibilities
No known up to now
Influence on methods of diagnosis
Irrelevant
Special precautions for storage
The medication should be stored protected from heat (15-25 C).
The medication should not be used after the expiration date stated on the package together with the mention "EXP".
Instructions for handling
No special instructions.
PRESENTATIONS
Boxes containing 1 blister of 1 a capsules (blue capsules for adults and bluelwhite capsules
Boxes of 1 a sachets.
produced by :
OM PHARMA
MINAPHARM Under Licence of OM PHARMA
Switzerland