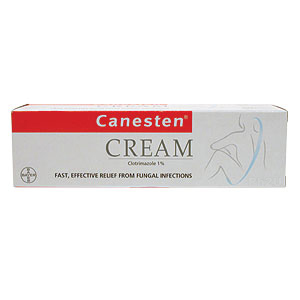 canesten
– cream
Broad spectrum antimycotic with fungicidal action For local application
Composition:
Each 20g of Canesten® cream contains: Clotrimazole 0.2 g
 Properties:
Canesten® has a reliable action on dermatophytes, yeasts and other fungi.
Indications :
The confirmed indications of Canesten® include:
1 – All dermatomycoses due to dermatophytes (e.g. Trichophyton specie-s .
2 – All dermatomycoses due to yeasts (Candida species)
3 – Dermatomycoses due to moulds and other fungi.
4 – Skin diseases showing superinfections with these fungi.
To the dermatomycoses listed under 1- 4 belong for example:  Interdigital mycoses (e.g. athlete's foot), Paronychias (associated with nail mycoses)
mycoses in skin folds, candida vulvitis, candida balanitis, pityriasis versicolor and  eJ¥llitasma
Applicatio and Dosage:
– Canesten R is thinly applied 2-3 times daily to the diseased sites and rubbed in
– On account of the excellent efficacy, a small amount is usually sufficient for an area  about the size of the palm.
–  For the treatment t~ become a full success, reliable-and sufficiently long
application of Canesten R is important.The duration of treatment varies, it
depends among other fa tors on the exten and localisation of the disease. It
is usually in Dermatomycoses 3 – 4 weeks, Candida vulvitis and candida balanitis  1-2 weeks, Erythrasma and pityriasis versicolor approx,3 weeks.
–  To prevent relapses, in fungal infection of the feet,treatment should  be continued  for about 2 weeks beyond the disappearance of all signs of disease.
– After washing, the feet should be thoroughly dried (spaces between the toes),
– Canesten R is odourless, can be washed off and does not stain.
 Tolerance:  
– When applied topically, Canesten® is perfectly tolerated.
– With external application no systemic effects are to be expected
Presentation:
• Tube of 20 g cream.
Manufactured by:
I'!i:\ Mempbis     For Pharm.     h m. Ind. – Cairo – Egypt.
o Under licence of Bayer Leverkusen, Germany