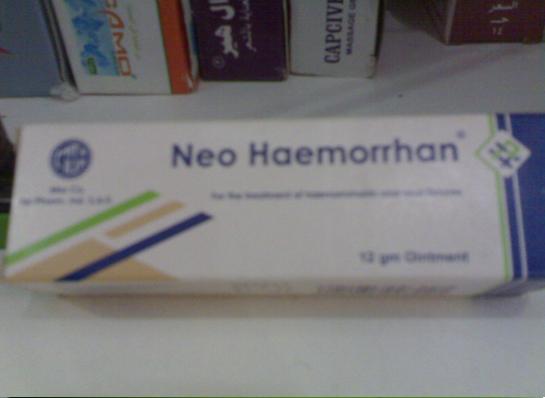 neo – Haemorrhan
SUPPOSITORIES & Ointment
Anti-inflammatory, Antiseptic,
Local anaesthetic, Anti-haemorrhoidal.
Composition:
Each     Each 1 g.
Suppository contains Ointment contains
Ruscus Extract  (Ruscogenin)                                     5 mg.                10 mg.                     Prednisolone Acetate                                                    3.5 mg.            1.75 mg.                 Lignocaine HCI                                                                  30 mg.              15 mg.
Aluminum Acetate                                                          40 mg.              20 mg.
Zinc Oxide                                                                          240 mg.            120 mg.
Properties:
NEO-HAEMORRHAN preparations contain a variety of ingredients which have proved to be of great value in the treatment of piles and anal fissures.
Ruscus extract contains mainly ruscogenines which possess antiphlogistic and anti-  inflammatory effects. Prednisolone produces its dramatic effect asan-anti-intlammatory agent, it is relatively non-irritating to tissues than other corticosteroids, and its anti-  inflammatory activity is about four times as that of cortisone. Lignocaine HCI acts  as a surface anaesthetic. It produces more rapid, intense and extensive local  anaesthetic action than procaine HC!. Aluminium acetate solution is astringent and  antiseptic. Zinc oxide is a non-toxic protective, soothing mild antiseptic and styptic.
NEO-HAEMORRHAN preparations contain special emolient base and form a
permanent protective thin film coating the inflamed area and thus sustaining the  action of the active ingredients.
Indications & Usage:
-Internal and external piles, anal fissures.
-Pruritis ani.
Dosage & Application:
-One suppository or about two gm ointment to be applied deeply into the anus, before  going to bed or after bowel evacuation.
Packing:
NEO-HAEMORRHAN Suppositories: Boxes of 6 suppositories
NEO-HAEMORRHAN Ointment: Collapsible tubes of about 12 g. with detachable
nozzle.
– Medicament is a product which affects your health, and its consumption
contrary 10 instructions is dangerous for you.
– Follow strictly the doctor's prescription, the method of use and the
instructions of the pharmacist who sales the medicament.
– The doctor and the pharmacist are experts in medicine. it's benefits
and risks.
– Do not by yourself interrupt the period of treatment prescribed for you.
– Do not repeat the same prescription without consulting your doctor.
– Keep medicament Dui of children reach
Council of Arab Health Ministers and Union of Arab Pharmacists
MISR CO. FOR PHARM. INO S.A.E.