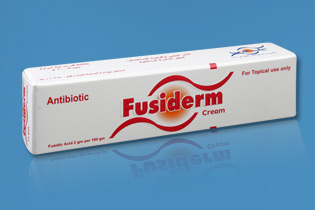 Fusiderm
Cream / Ointment For Topical use only
Composition:
Each 100 gm Fusiderm cream contains:
Fusidic acid     2 gm
Each I 00 gm Fusiderm ointment contains:
Sodium fusidate     2 gm
properties :
Fusiderm is an antibiotic having a potent antimicrobial activity
against many Gram-positive organisms such as, Streptococci,
Corynebacterium minutissimun and particularly Staphylococci,
including strains resistant to penicillin or other antibiotics.
Fusiderm  provides highly effective topical treatment in primary and
secondary bacterial infections of the skin and has a unique ability to
penetrate intact skin.
Indications:
Fusiderm  cream / ointment is indicated for the topical treatment of
skin infections due to susceptible bacteria, including:
– Impetigo.                              –  Erythrasma.
– Infected wounds.                –  Folliculitis.
– Furunculosis.                       –  Infected contact dermatosis.
– Infectious eczematoid dermatosis.
– Infected seborrheic dermatosis.
– Postural acne.
Fusiderm cream is recommended for wet, oozing primary infections, and greasy secondary infections Fusiderm  ointment is specially useful in infections on dryeczematous skin as it helps to retain moisture.
Side Effects:
Fusiderm cream/ointment is well tolerated, and there is an
extremely low frequency of hypersensitivity reactions.
Dosage & Application:
A thin film of Fusiderm  cream/ointment to be applied to cover
completely the affected area for 2-3 times daily until required resultsare achieved.
Contraindications:
History of sensitivity reactions to any component of the cream/ointment.
Precautions:
Fusiderm  cream/ointment is not for ophthalmic use.
Storage:
Store between 15 – 30°C.
Keep out of reach of children.
Package:
Fusiderm  cream:
tube of 15 gm.
Fusiderm  ointment:
tube of 15 gm.
Manufactured by:
EVA Pharma for Pharmaceuticals &
Medical Appliances, Egypt