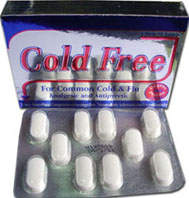 COLD FREE Tablets
For Common Cold & Flu
COMPOSITION:
Each Tablet Contains:
Paracetamol     650 mg.
Pseudoephedrine hydrochloride     60 mg.
Chlorpheniramine maleate     4 mg.
PHARMACOLOGICAL ACTION:
COLD FREE tablets for Common Cold has decongestant, analgesic, antipyretic and antihistaminic properties.
INDICATIONS:
For the symptomatic relief of the common cold, hay fever, minor aches
and pains, headache and fever, sore throat, nasal stuffiness, runny nose,
sneezing, itchy and watery eyes.
CONTRA-INDICATIONS:
Hypersensitivity to any of the ingredients. Pregnant or nursing mother seek advice of a doctor or pharmacist
WARNINGS:
Be careful when driving a motor vehicle or operating machinery.
Patients suffering from liver or kidney disease should take paracetamol
only if in·itructed to do so by a doctor.
Do not use continuously for longer than 10 days without consulting a
doctor.
DRUG INTERACTIONS:
Do not use this product if you are being treated with monoamine oxidase
inhibitors, or within two weeks of stopping treatment with these medications.
DOSAGE AND DIRECTIONS FOR USE:
Do not exceed the stated dose.
Adults and children over 12 years: One tablet 3-4 times daily
Children under 12 years of age: Seek advice of a doctor.
PRESENTATION:
– Box of 10 tablets
– Box of 20 tablets.
STORAGE INSTRUCTIONS:
Store below 30° C. Protected from light.
Keep out of reach of children.
Produced by
ORGANO PHARMACEUTICAL INDUSTRIES (ORGANO PHARMA)
Obour city – Cairo – Egypt.