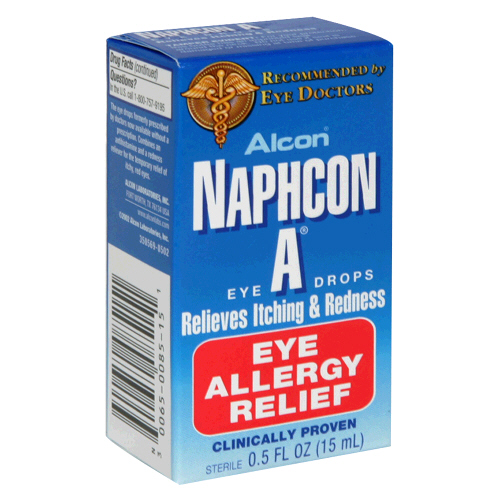 NAPHCON – A
( Naphazoline Hydrochloride + Pheniramine Maleate)
Sterile Ophthalmic Solution     Alcon
===== ®AMEDA =====
COMPOSITION:
Each 1 ml contains:
Naphazoline Hydrochloride     0.25 mg (0.025%)
Pheniramine Maleate     3 mg (0.3%)
PROPERTIES:
NAPHCON-A is prepared as a sterile topical ophthalmic solution,
combines the effects of the antihistamine, (Pheniramine Maleate),
and the decongestant, (Naphazoline Hydrochloride).
INDICATIONS AND USAGE:
For relief of ocular irritation and/or congestion.
For the treatment of allergic or inflammatory ocular conditions.
CONTRAINDICATIONS :
Hypersensitivity to one or more of the components of this  preparation.
WARNING :
–  Do not use in the presence of narrow angle glaucoma ..
PRECAUTIONS :
To prevent contaminating the dropper tip and solution, care should be taken not to touch the eyelids or surrounding area with the dropper tip of the bottle.
ADVERSE REACTIONS:
Pupillary dilation may occurs.
DOSAGE AND ADMINISTRATION:
For adults and children 6 years and over: one or two drops Instilled in the eye (s) every 3 to 4 hours or less frequently, as required to relieve symptoms.
STORAGE:
Keep container tightly closed, at room temperature (8′ – 30′ C ), Protect from direct light.
HOW SUPPLIED:
15 ml Drop-Tainer dispenser.
Keep all medicaments out of reach of children
Manufactured by :
RAMEDA
(THE TENTH OF RAMADAN ) Co.
For Pharmaceutical Industries & Diagnostic Reagents.
6 th of October City A.R.E.
Under licence of A.P.L.
ALCON COUVREUR – Belgium