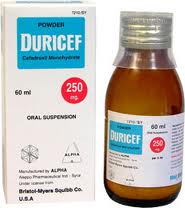 DURICEF®
DESCRIPTION :
Duricef contains cefadroxil ,asemisynthitc cephalosporin antibiotic intended for oral administration
PHARMACEUTICAL DOSAGE FORM:
DURICEF (250 mg & 500 mg , capsules , 1 gm dispersible tablets,
125 mg , 250mg and 500 mg powders for oral suspension )
COMPOSITION:
Active ingredient: CEFADROXIL MONOHYDRATE 
Inactive ingredients: Capsules: Magnesium Stearate.
Dispersible tablets: Avicel. Magnesium Stearate, Crospovioone. Natural & Artifical Orange Juice Flavor, Orange Flavar Terpeneless S.D .• Arti1ical Pineapple Haver, FD&C Yellow # 6 Dye, Sweetener, Guar Gum. Powders for Oral suspension: Sodium Benzoate, Xanthan Gum, Polysorbate 80, Natural and Artificial Flavors, FO&C Yellow # 6 Dye, Sucrose (Medium Granulated).
CUNICAl PHARMACOLOGY :
Mechanism of Action
In vitro studies show that cephalosporins inhibit cell wall synthesis and have bactericidal effect.
Pharmacodynamic effects
Cefadroxil is In vitro active towards the following microorganisms:
– B-hemolytic streptococcus,
-sneotccoccos pneumoniae (except for penicillin-resistant Streptococcuspneumoniae)
– Staphylococci, including coagulase-positive, coagulase-negative and strains producing penicillinase (except for methicillin-resistant Staphylococcus aureus and methicillin-resistant Staphylococcus epidermldis)
– Escherichia coli,
– Proteus mirabilis,
– Klebsiella spp,
– Moraxella (Branhamella) cetarmeus.
– Bacteroides spp (induding Bacteroides fragilis).
– Other strains of sensitive Gram-negative organisms include some strains of Haemophilus fnfluenzae, Salmonella species and Shigella species.
Note: Most strains of Enterococci (Enterococcus faecalis and E. faecium) are resistant to cefadroxil. Cefadroxil is not active against most strains of Enterobacter species, Morganella morganii (formerly Proteus morganii), and Proteus vulgaris. It has no activity against Pseudomonas species and Acinetobacter calcoaceticus (fonnerly Mima and Herellea species).
Disc Susceptibility Tests :
Quantitative methods that require measurement of zone diameters give the most precise estimates of antibiotic susceptibility. One recommended laboratory procedure uses a cephalosporin class disc for lesting susceptibility; interpretations correlate zone diameters of this disc test with MIC values for cefadroxll. With this procedure. a report of "suscepttoie' indicates that the infecting organism is likely to respond to therapy. A report of 'resistant" indicates that the infecting organism is not likely 10 respond to therapy. A report of "mtermedrate susceptibulty" suggests that the organism would be susceptible if the infection is confined 10; area where adequate drug concentrations can be achieved, for example, the urinary tract.
Note: Only intra muscularly administered penicillin has proved efficiency in prophylaxis rheumatism. Cefadroxil is generally efficient in sanitation of the pharynx from streptococ There are no data regarding the efficiency of cefadroxil in prophylaxis of rheumatism.
Pharmacokinetics :
Absorption
Cefadroxil is rapidly absorbed after oral administration. Absorption characteristics are r different between fasted and non fasted subjects.
Distribution
Following single doses of 500mg and 19, average peak serum concentrations we
approximately 16 and 2Bi»ml respectively. Measurable serum levels were present 12 hor after administration.
Metabolism
The elimination half-life is about 2 hours.
Elimination
Over 90% of the drug is excreted unchanged in the urine within 24 hours. Peak uri
concentrations are approximately 1800 mcglml during the period following a single 500 mg o dose. Increases in dosage generally produce a proportjonate mcrease in cefadroxil urine concentration. The urine antibiotic concentration, following a 1 g dose, was maintained w above the MIC of susceptible urinary pathogens for 20 to 22 beers.
INDICATIONS :
DURICEF is indicated in the treatment of the following infections when due to susceptit microorganisms:
– Upper and lower respiratory infections.
– Skin and soft tissue infections.
– Urinary tract infections.
– Other infections: osteomyelitis and septic arthritis.
– Note: Culture and susceptibility tests should be initiated prior to and during therapy. Rer function studies should be pertormed when indicated. Surgical procedures should performed when indicated.
– Note: Only penicillin by the intramuscular route of administration has been shown toeffective in the prophylaxis of rheumatic fever. DURICEF is generally effective in eradication of streptococci from the oropharynx. However, data establishing the efficacy DURICEF for the prophylaxis of subsequent rheumatic fever are not available.
CONTRAINDICATIONS :
DURICEF is contraindicated in patients with known allergy to the cephalosporin group antibiotics or to any component of the formulation.
Warnings and Precautions :
Hypersensivity reactions
Before starting treatment with cefedroxil it has to be carefully ascertained if the patient h previously experienced allergy to cefadroxil, other cephalosporins, penicillin or other medlclr products. Special care has to be taken when administering this medicinal product to a path sensitive to penicillin, as occurrence of cross-sensitivity between j>.lactam antibiotics has be clearly proven and this may manifest in up to 10% of patients with penicillin-sensitivl Administration of the medicinal product should be discontinued if hypersensitivity 0CCl during administration of cefacroxll. Severe allergic reaction might require intensive care. Pseudomembranous colitis
Pseudomembranous colitis has been reported with nearly all euibactenal agents, and m range from mild to life-threatening. Therefore, it is important to consider this diagnosis patients who present with diarrhea subsequent to the administration of antibacterial agen After the diagnosis of colitis has been established, therapeutic measures should be lnltiatec Gastrointeslinaf conditions and colitis
Severity of undesirable effects on gastrointestinal tract decreases when the medicinal prodt is administered with food; it does not affect absorption. eefadroxil should be prescribed wilt
Renal impairment
Cefadroxil should to be used with care in patients with impaired renal function, see section Dosage and Administration. Before and during the treatment necessary clinical and laboratory tests should be performed in patients with known or suspected renal insufficiency.
Superinfections In case of long-term use of cefadroxil, the patient may be colonized with miCroorganisms not sensitive to the medicinal product. Careful monitoring of the patient is essential. If superinfection occurs during treatment, necessary alterations should be made in the treatment scheme.
Direet Coombs test
Direct Coombs test's change to positive has been described during treatment with cephalospo- rins. In haematological examinations or cross-matching transfusion studies where antiglobulin test is made with minority, or when interpreting the results of Coombs test in newboms whose mothers have used cephalosporins before delivery, it has to be taken into consideration that positive Coombs test may result from the medicinal product. Fa/se-positive glycosuria reaction
Urine from patients treated with cefadroxil may give a false-positive glycosuria reaction when tested with Benedict's or Fehling's solutions. This does not occur with enzyme based tests. Lactose Hard capsules contain lactose. Patients with rare hereditary problems of galactose intolerance, the Lapp lactase deficiency or glucose-galactose malabsorption should not take this medicine. Sucrose
Suspension prepared from granules for oral suspension contains sucrose. Patients with diabetes must take this definitely into consideration. Patients with rare hereditary problems of fructose intolerance, glucosegalactose malabsorption or sucrase-Isomattase insufficiency should not take this medicine.
Interactions :
Probenecid The renal excretion of cefadroxil, and many other cephalosporins, is delayed by probenecid.
PREGNANCY:
Reproduction studies have been performed in mice and rats at doses up to 11 times the human dose and have revealed no evidence of impaired fertility or harm to the fetus due to cefadroxil. There are, however, no adequate and well conlrolled studies in pregnant women. Because animal reproduction studies are not always predictive of human response, this drug should be used during pregnancy only if clearly needed.
Nursing Mothers:
Cefadroxil is distributed info breast milk: therefore. this drug should be used with caution in nursing women.
ADVERSE EVENTS :
The adverse events observed with cefadroxil are similar to those observed with other
cephalosporins. Gastrointestinal – Symptoms of pseudomembranous colitis can appear during or after antibiotic treatment. Nausea, vomiting, and dyspepsia have been reported rarely. Administration with food decreases nausea. Diarrhea has also occurred. Hypersensitivity – In common with other cephalosporins, allergic reactions, including pruritus, rasn. urticaria, and angioedema have been observed. These reactions usually subsided upon discontinuation of the drug. Erythema multiforme, Stevens-Johnson syndrome. serum sickness, and anaphylaxis have been reported rarely. Other reactions have included genital pruritus, genital candidiasis. vaginitis, moderate transient neutropenia, fever, and elevations in serum transaminase. In common with other cephalosporins, agranulocytosis, thrombocytopenia and arthralgia have been rarely reported. During postmarketing experience, hepatic dysfunction , including chotestasls has been reported, and rare reports of idiosyncratic hepatic failure have been received: because of the uncontrolled nature of these spontaneous reports, a causal relationship to DURICEF has not been established.
OVERDOSAGE :
Data from a study of children under six years of age who had ingested a maximum of 250 mglkg of penicillin or a cephalosporin derivative suggested that ingestion of less than 250 mglkg of cephalosporin (i.e., 5 to 10 times recommended dose) is not associated with significant outcomes. No treatment is required other than general support and observation. During the 72-hour evaluation period, most of the children remained asymptomatic. Gastrointestinal disturbances and rash were reported in some children. For amounts greater than 250 mg/kg, induce gastric emptying (emesis induction or gastric lavage). For information or removal of drug by hemodialysis, see Dosage and Administration.
DOSAGE AND ADMINISTRATION :
DURICEF is aod stable and may be administered orally without regard to meals.
Administration with food may be helpful in diminishing potential gastrointestinal complaints occasionally associated with oral cephalosporin therapy.
Adults:
Urinary Tract Infection:
For uncomplicated lower urinary tract infections (te., cystitis) the usual dosage is 1 or 2 9 per day in a single dose or in two equally divided doses.
For all other urinary tract infections the usual dosage is 2 g per day in two equaUy divided doses.
Skin and Skin Structure Infections:
For skin and skin structure infections the usual dosage is 1 g per day in a single dose or two equally divkled doses.
Pharyngitis and Tonsillitis:
Due to Group A beta-hemolytic streptococc. Treatment of Group A beta-hemolytic streptococcal pharyngitis and tonsillitis – 1 g per day in a single dose or two equally divided doses for at least ten days.
Upper and lower respiratory Tract Infections:
For mild infections Ihe usual dosage is 1 g per day in two equally divided doses.
For moderate 10 severe infections the recommended dosage is 1 9 to 2 9 daily in two equally divided doses.
Children:
The recommended dosage for children is 25 to 50 mglkg/day in two equally divided doses (every 12 hours) as indicated. For pharyngitis, tonsillitis, and impetigo the recommended daily dosage may be administered as a single dose or in two equally divided doses (every 12 hours).
DURICEF  oral suspension :
In the treatment of beta-hemotytic streptococcal Infections, a therapeutic dosage of DURICEF should be administered for at least 10 days. For the treatment ofbeta-hemolyitc streptococcal pharyngitis or tonsillitis in both adults and children, DURICEF may be administered in the usual daily dose either in two divided doses or a single dose. Renal impairment
or 14 days under refrigeration.
Dispersible Tablets:
After removing the foil wrapper, drop the tablet into 120 rnl of water. Allow 30 to 60 seconds for the tablet to disperse. Stir contents thorougtWy and swallow entirely.
Dispersible tablets should be prepared immediately prior to ingestion.
STORAGE RECOMMENDATIONS :
Store in temperature not exceeding 30°C in dry place. OURICEF capsules, tablets,
foil-wrapped dispersible tablets, and unconstituted powder will remain stable until
expiration date indicated on package.
PACKAGE :
DURICEF capsules:
Box of 6 capsules 250 mg .
Box of 6 or 12 capsules(2 STRIPS X 6 CAPSULES) 500 mg
Each capsule contains cefadroxil monohydrate equivalent to 250 or 500 rng cefadroxil.
OURICEF for oral suspension:
Each 5 mL of reconstituted suspension contains cefadroxil monohydrate equivalent to 125 mg, 250 rng, or 500 mg cefadroxil.
OURICEF dispersible tablets:
Box of 6 dispersible tablets 1 g.
Each dispersible tablet contains cefadroxil monohydrate equivalent to 1 g cefadroxil.
INSTRUCTION TO THE PATE lENT :
KEEP OUT OF THE REACH OF CHILDREN
MANUFACTURED BY:
SMITHKLlNE BEECHAM EGYPT- L.C.C
AN AFFILIATED COMPANY TO GlAXOSMITHKLlNE