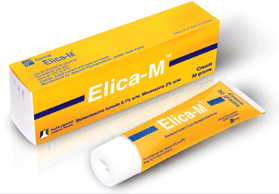 Elica -M
mometasone furoate 0.1 % w/w, miconazole nitrate 2% w/w     Cream
COMPOSITION :
Each gram of Elica-M cream contains active compound mometasone furoate 0.1 % w/w and miconazole nitrate 2% w/w in a suitable cream base.
PHARMACOLOGY :
mometasone is a synthetic corticosteroid, exhibitsanti-inflammatory, anti-pruritic and anti-allergic actions and miconazole nitrate is an antifungal agent with broad-spectrum activity against pathogenic fungi, including yeasts and dermatophytes.
INDICATIONS :
Elica-M cream is a combination of medium potency corticosteroid mometasone furoate and miconazole nitrate, Elica-M is indicated for infections of skin by Candida spp. or dermatophytes in which inflammatory and pruritic manifestations are prominent.
DOSAGE AND ADMINISTRATION :
Apply a thin film of Elica-M cream to the affected skin areas once or twice daily.
PRECAUTIONS :
Systemic absorption of topical corticosteroid will be increased, if extensive technique is used. Suitable precautions should be taken under these conditions or when longterm use is anticipated particularly in infants and children Use of topical corticosteroid in children should be limited to the least amount compatible with an effective therapeutic regimen. Since safe use of mometasone furoate 0.1 % in pregnant women has not been established, topical corticosteroids should be used during pregnancy, only if the potential benefit justifies potential risk to the fetus. It is not known whether topical administrations of corticosteroids could result in sufficient systemic absorption to produce detectable quantities in the breast milk, thus a decision should be made, whether to discontinue nursing or to discontinue the drug, taking into account the importance of the drug to the mother. If irritation or sensitizations develops with use of Elica_M™ cream, treatment should be discontinued.
Excessive or prolonged use of topical corticosteroid can suppress HPA axis resulting in secondary adrenal insufficiency.
CONTRAINDICATIONS :
Elica-M cream is contraindicatad in patients who are hypersensitive to mometasone furoate, to miconazole nitrate or to any ingredient in this preparation.
ADVERSE REACTIONS :
Local adverse reactions reported very rarely with mometasone furoate 0.1 %, include burning, pruritis, stinging and signs of skin atrophy.
STORAGE :
Store below 30 'C.
PRESENTATION :
Elica-M™ cream, 15 grams in aluminium collapsible tube.
Elica-M™ cream, 30 grams in aluminium collapsible tube.
THIS IS A MEDICAMENT :
– Medicament is a product that affects your health and its consumption contrary to instructions is dangerous for you.
– Follow strictly the doctor's prescription, the method of use and the instructions 01 the pharmacist who sold the medicament.
– The doctor and the pharmacist are experts in medicine, its benefits and risks.
– Do not by yoursell interrupt the period 01 treatment prescribed.
– Do not repeat the same prescription without consulting your doctor.
– Keep medicament out of the reach of children.
manufactured by :
Jamjoom Pharrna