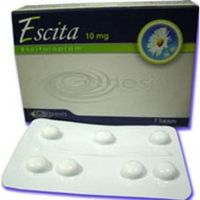 Escita 10mg Escitalopram                                                                                            7 film-coated tablets Escitalopram 10 mg (as oxalate)
Read all of this leaflet carefully before you start taking this medicine :
– Keep this leaflet. You may need to read it again.
– This leaflet answers some common questions about Escita. It does not contain all the information that is known about Escita.lt does not take the place of talking to your doctor or pharmacist.
– Please note that your doctor may have prescribed this medicine for another illness or at a dose other than those mentioned in this leaflet. If this is the case, please follow the instruction of your doctor.
In this leaflet :
WHAT ESCITA IS AND WHAT IT IS USED FOR?
PHARMACOKINETICS
BEFORE YOU TAKE ESCITA
HOWTOTAKEESCITA?
S. POSSIBLE SIDE EFFECTS
6. HOW TO STORE ESCITA?
1. WHAT ESCITA IS AND WHAT IT IS USED FOR?
1.1 What does Escita looks like?
Escita is presented in a box containing 1 blister of 7 round, white
biconvex film coated tablets; each contains lOmg of the active
substance escitalopram as oxalate salt. The tablets are scored and
marked with "G"and "E" on each side of the score on one side and10 on the other side of the tablet.
1.2 How does Escita work?
Escita is a selective serotonin reuptake inhibitor (SSRI) and belongs to a group of medicines known as antidepressants. Escita helps to normalize the levels of serotonin in the brain. Disturbances in the serotonin system of the brain are key factors in the development of depression and related disorders.
1.3 What is Escita used for?
Escita is used for the treatment of depression and panic disorder.
Your doctor. however. may prescribe Escita for another purpose. Ask your doctor if you have any question about why Escita has been prescribed for you.
2. PHARMACOKINETICS :
2.1 Absorption and Distribution.
Following a single oral dose (10 mg tablet) of Escita, peak blood levels occur at about 5 hours. Absorption of Escita is not affected by food. The binding of escitalopram to human plasma proteins is approximately 56%.
2.2 Metabolism and Elimination.
Following oral administrations of Escita, the fraction of drug recovered in urine as escitalopram and S-demethylescitalopram (S-OCT) is about 8% and 10%, respectively. Escitalopram is metabolized to S-DCT and 5- didemethylescitalopram IS-DDCT). The metabolites of escitalopram do not contribute significantly to the antidepressant actions of escitalopram. S-DCT and S-DDCT also have no or very low affinity for seratonergic (5-HTI-7) or other receptors including alpha- and beta-adrenergic, dopamine (01-5), histamine (HI- 3), muscarinic (M 1-5), and benzodiazepine receptors. S-DCT and S-DDCT also do not bind to variousion channels including Na+, K+, CI-, and Ca++ channels.
2.3 Population Subgroups.
Aqe-: In subjects >/= 65 years of age. escitalopram AUC andhalf-life were increased by appraximately 50%. The usual recommended dose for elderly patients is 10 mg per day.
Gender: There were no differences in AUC, C max. and half-life between the male and female subjects. No adjustment of dosage on the basis of gender is needed. Reduced hepatic function: Escitalopram oral clearance was reduced by 37% and half-life was doubled in patients with reduced hepatic function compared to normal subjects. The recommended daily dose ofEscita for most hepatically impaired patients i<: lnmn Reduced renal function: In patients with mild to moderate renal function impairment, oral clearance of escitalopram was reduced by 17% compared to normal subjects. No adjustment of dosage for such patients is recammended. Na information is available about the pharmacokinetics of Escita in patients with severely reduced renal function (creatinine clearance < 20 mUm in).
3. BEFOR YOU TAKE ESCITA :
3.1 Do not take Escita
If you are allergic to escitalopram or any of the other ingredients of Escita. After the expiry date printed on the pack.
At the same time as taking medication known as monoamine oxidase inhibitors (MAOls), such as phenelzine. tranylcypromine and moc /obemide which are also used for the treatment of depression. Therefore, it is recommended that Escita should not be used in combination with an MAOI, or within 14 days of discontinuing treatment with an MAOI. Similarly, at least 14 days should be allowed after stopping Escita before starting an MAOI.
3.2 Take special care with Escita
Medical problems
Please tell your doctor if you have any medical problems, especially if you have a severe liver disease or diabetes, myocardial infarction or unstable heart disease. Adjustment of your dose of Escita for these diseases may be warranted. Epilepsy or history of seizures or fits Seizures are a otential risk with all antidepressant medications. If you experleilce seIzures or an increase frequency of seizures w ile being treated with Escita, it is important to inform your doctor.
Subcutaneous bleeding:
There have been reports that medicines like Escita may cause an increased incidence of subcutaneous bleeding (shown as e.g. increased tendency to develop bruises). The risk is increased if you have tendencies to develop bleedings, and if you also take medicines known to affect the rate of clotting of the blood (like aspirin, non-steroidal anti-inflammatory drugs (medicines used for pain relief), some antipsychotics or tricyclic antidepressants). The risk is also increased if you take ticlopidine, dipyridamole (both medicines are used to reduce the risk of thrombosis) or oral anticoagulants.
Use in children and adolescents under 78 years of oge Escita should normally not be used for children and adolescents under 18 years.
Also, you should know that patients under 18 have an increased risk of side-effects such as suicide attempts, suicidal thoughts and hostility (predominantly aggression, oppositional behavior and anger) when they take this class of medicine. Despite this, your doctor may prescribe Escita for a patient under 18 because he I she decide that this is in their best interest.
Special information relating to your disease :                                                                                                                Suicide risk associated with psychiatric disorders
Suicidal thoughts are common in psychiatric disorders especially in patients suffering from depression. They will often persist until the antidepressant effect of the medication becomes apparent. Tell your doctor if your depressive symptoms become worse.
Episodes of mania
Some patients with manic-depressive illness may enter into a manic phase. This is characterized by profuse and rapidly changing ideas, exaggerated gaiety and excessive physical activity. In such cases, it is important to contact your doctor.
Panic disorder
Patients who are prone to panic attacks may actually experience a temporary period of heightened anxiety after starting treatment, which generally resolves during the first 1-2 weeks. Therefore, a low starting does is recommended in panic disorder.
3.3 Can Esclta be used with other medicines?
– Please tell your doctor if you are taking or have taken any other medicines during the last 14 days. Escita and the following medicines should be combined with caution:
– lithium (used in the treatment of manic-depressive disorders) and seleqllne (used in the treatment of Parkinson's disease); if you get high fever and abrupt contractions of muscles, feel agitated and confused you must see your doctor immediately.
– Imipramine and desipramine (both used to treat depression) and metoprolol (a so-called beta-blocker used in various cardiovascular diseases) are eliminated from the body more slowly when administrated together with Escita, leading to increased amounts of these drugs in your body. If you receive both Escita and any of these medicines you should consult your doctor.
– Sumatriptan and similar medicines (used to treat migraine) tramadol (used against sever pain) increases the risk of side effects; if you get any unusual symptoms when using this combination you should see your doctor
– Cimetidine (used to treat stomach ulcers) may cause increased blood levels of Escita if used at high doses at or above 800mg per day. Although side effects of Escita have not been recorded, your doctor may decide to reduce your dose of Escita.
– Oral anticoagulants (medicines like warfarin used to treat e.g. blood clots in the lungs/legs); the Efficiency of the oral anticoagulant may be altered, and your doctor will probably check the coagulation time of your blood when starting and discontinuing Escita in order to verify that your dose of anticoagulants is still adequate.
– Drugs that Interfere With Hemostasis (NSAIDs, Aspirin, Warfarin, etc.)concurrent use of an NSAID or aspirin potentiated the risk of bleeding. Thus, patients should be cautioned about the use of such drugs concurrently with Escita.
– Carbamazepine; the possibility that carbamazepine might increase the clearance of Escita should be considered if the two drugs are
co-administered.
– Ketoconazole, Combined administration of racemic escitalopram (40 mg) and ketoconazole (200 mg), (a potent CYP3A4 inhibitor), decreased the Cmax and AUC of ketoconazole by 21% and 10%, respectively, and did not significantly affect the pharmacokinetics of escitalopram.
3.4 Taking Escita with food and drink :
– Escita can be taken with or without food.
– Escita has not been shown to increase the effects of alcohol. Neverthless, it is recommended not to drink alcohol during treatment with Escita.
3.5 Pregnancy and breast feeding :
Are you pregnant, trying to become pregnant or breast feeding? If so. discuss the risk and benefits with your doctor before you start taking Escita.
3.6 Driving and using machines :
Escita does not cause drowsiness; however, as with any new medicine, you should take care while driving or using machinery until you knows how it affects you.
4. HOW TO TAKE ESCITA?
4.1 How much to take?
Always take Escita exactly as your doctor has told you.
Adults Depression:
The usual dose is 10 mg per day. This may be increased by your doctor. The recommended maximum dose is 20 mg per day.
Panic disorders: The starting dose is 5 mg per day for the first week before increasing the dose to 10-15 mg per day. The dose may be increased by your doctor to a maximum of 20 mg per day. Patients who are prone to panic attacks may actually experience a temporary period of heightened anxiety, after starting treatment which generally resolves after the first 1-2 weeks. Therefore, a `low starting dose is recommended in panic disorder.
Elderly patients :
The usual starting dose is 5 mg per day. It is recommended that the
maximum dose is kept below 20 mg.
Patients with special risks :
It is recommended that patients with liver disease receive an initial dose of 5 mg daily for the first two weeks. Your doctor may increase the dose to 10 mg daily.
Children and adolescents «18 years)
Escita should not be given to children and adolescents unless necessary.
Further considerations
The safety of daily doses of Escitalopram in excess of 20 mg has not yet been thoroughly investigated. Therefore, your doctor will only prescribe higher doses after careful considerations of the necessity.
4.2 How and when to take Escita?
Escita is taken every day as a single daily dose. Escita can be taken with or without food. Swallow the tablet with a drink of water. Do not chew it.
4.3 How long to take Escita?
As with other medicines for the treatment of depression and panic disorder, it may take a few weeks before you feel any improvement. Therefore you should continue to take Escita even if it takes sometime before you feel any improvement in your condition.Never change the doses of the medicine without talking to your do r first.
The duration of treatment may vary for each individual. You should continue to take the tablets for as long as your doctor recommends,
even if you begin to feel better. The underlying illness may persist for a long time and if you stop your treatment too soon, your symptoms may return. Therefore it is recommended that treatment is continued for at least 6 months after you feel well again.
4.4 If you take more Escita than you should.
If you think that you or anyone else may have taken to many Escita tablets, contact your doctor or nearest hospital casualty department immediately. Do this even if there are no signs of discomfort.
4.5 If you forget to take Escita.
If you forget to take a dose, take the next dose at the usual time. Do not take a double dose.
4.6 If you stop Escita.
Abrupt cessation of this kind of medication may cause discontinuation symptoms such as dizziness, nausea and headache. When you have completed your course of treatment it is therefore advised that the dose of Escita is gradually reduced over a couple of weeks
5. POSSIBLE SIDE EFFECTS :
Some people may experience unwanted effects (side-effects) whilst taking Escita.
The side effects are, in general, mild and disappear after a short period of time. Please note that several of the effects may also be symptoms of your illness and therefore wane when you start to get better. If the side effects are troublesome or last for more than a week or two, tell your doctor.
Side effects seen in the clinical trials include:
Very common (more than 1 out of 10): Nausea
Common (Less than 1 out of 10 but more than lout of 100) Sinusitis
Decreased appetite
Difficulties falling asleep
Feeling sleepy
Dizziness
Yawning
Diarrhea
Constipation
Increased sweating
Sexualdis urbances OerayedejaCulation)
Fatigue
Fever
Uncommon (less than 1 out of 100)
Disturbed sleep
Taste perversion
In addition, a number of rare side effects are known to occur with drugs that work in a similar way to Escita. These are:
– Dizziness when you stand up due to low blood pressure
– Decreased levels of sodium in the blood (the symptoms are feeling sick and unwell with weak muscles or confused)
– Blurring of vision
– Insomnia
– somnolence
– Vomiting
– Dry mouth
– Abnormal liver function test (increased amounts of liver enzymes in the blood)
– Pains in muscles and joints
– High fever, agitation, confusion, trembling and abrupt contractions of muscles may be signs of a rare condition called serotonin syndrome
– Seizures, tremors, movement disorders (involuntary movements of the muscles)
– Hallucinations, mania, confusion, panic attacks, depersonalization,
anxiety, nervousness and agitation
– Difficulties urinating
– Flow of milk in women that are not nursing
– Rash, increased tendency to develop bruises, itching, patches of
circumscribed swellings Tell your doctor if you notice anything else that is making you feel unwell.
6. HOW TO STORE ESCITA?
Always keep out of reach of children.
Don not store above 30 C.
Keep away from direct sunlight.
Manufacturer by :
BIG pharma – Egypt.
For Genesis Pharmaceuticals Escita