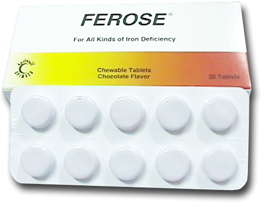 FEROSE® (Tablets & Syrup)
For All Kinds of Iron Deficiencies
COMPOSITION:
Each chewable tablet contains 100 mg Iron as Ferric hydroxide-polymaltose complex.
Each teaspoonful (5 ml) syruR.. contains 50 mg of Iron as Ferric hydroxide-polymaltose
complex.
PROPERTIES:
Iron polymaltose as present in Ferose tablets and syrup provides an ideal preparation for all iron deficiency anemias. It is rapidly absorbed, with a nigh rate of iron utilization and produces an effective increase in Haemoglobin. Due to its favourable non-ionic nature it has the following properties unlike ionised iron salt preparations:
– Ferose does not give rise to inritation of the intestinal mucosa and does not stain the teeth.
– Ferose has palatable, non metallic taste (Ferose chewable tablets have chocolate flavour and are acceptable even by the most resistant patients of all ages).
– Ferose has excellent tolerance.
INDICATIONS:
Prevention and treatment of all kinds of iron deficiencies, particularty iron deficiency anemia.
DOSAGE AND ADMINISTRATION:
– Adults and children over 12 years :
Tablets: in normal cases 1 tablet daily chewed or swallowed with some liquid during or after
meals. If required the dosage is increased to 1 tablet twice daily, as per physician's prescription.
Syrup: 2 teaspoonful 1 – 2 times daily during or after meals.
– Children under 12 years:
Syrup: 1 teaspoonful 1 – 2.times daily during or after meals.
– Infants: Begin with 1/2 of a teaspoonful daily and increase to 1 teaspoonful daily. Ferose Syrup may be mixed with fruits or vegetable juices or other liquid if desired.
CONTRAINDICATIONS:
– Disturbances in iron utilization (lead anemia), Thalassemia.
– Hypersensitivity or intolerance to iron and overloading of iron in the body.
– Anemia not caused by iron deficiency.
– Ferose tablets is contraindicated in patients with phenylketonuria.
PRECAUTIONS:
As with all iron preparations, a dark colouration of the stool may occur which is without clinical significance.
PREGNANCY AND LACTATION:
Reproduction studies in animals did not show any foetal risk. Controlled studies in pregnant women after the first trimester have not shown any undesirable effects on mother and neonates. There is no evidence of a risk during the first trimester and the possibility of a negative influence to the foetus is unlikely to occur. Mother's milk contains iron bound to lactoferrin. It is not known how much iron from the complex is passed into mother's milk. The administration of Ferose is unlikely to cause undesirable effects to the nursed child.
UNDESIRABLE EFFECTS:
Occasionally gastrointestinal irritations such as sensation of repletion, pressure in the epigastric region, nausea, constipation or diarrhoea can occur.
INTERACTIONS:
There is no interaction between Ferose and food or between Ferose and drugs due to its non ionic nature.
STORAGE:
Store below 25·C.
PRESENTATIONS:
Ferose is available as tablets, syrup and drops.
This Is a medicament :
–  A medicament is a product which affects your health, and its consumption contrary to instructions is dangerous for you.
–  Follow strictly the doctor's prescription, the method of use and the instructions of the pharmacists who sold the medicament.
– The doctor and the pharmacists are experts in medicine, its benefits and risks.
– Do not by yourself interrupt the period of treatment prescribed for you.
– Do not repeat the same prescription without consulting your doctor.
– Keep medicaments out of the reach of children
Manufactured by:
SPIMACO
AI-Qassim Pharmaceutical Plant,
Saudi Pharmaceutical Industries & Medical Appliances Corporation,
Saudi Arabia.