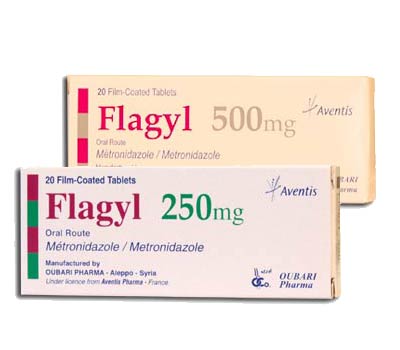 Flagyl Metronidazole
sanoFi aventis
— —
Composition :
Each film coated tablet ( Flagyl 250 mg) contains as active ingredient 250 mg metronidazole.
Each film coated tablet ( Flagyl 500 mg) contains as active ingredient 500 mg metronidazole.
Excipients:Wheat starch, povidone, magnesium stearate,hydroxypropylmethyl cellulose, macrogol 20000.
Each 5 ml (Flagyl suspension) contains 200 mg
metronidazole benzoate equivalent to 125 mg
metronidazole
Excipients:monosodium phosphate dihydrate, methyl parahydroxybenzoate, propyl parahydroxybenzoate, magnesium aluminium silicate, saccharose, saccharin sodium, ethyl alcohol 95%, concentrated essence of lemon,
deterpenated oil of sweet orange, purified water.
Therapeutic indications:
Indications are based on the anti-parasitic and antibacterial activity of metronidazole and on its pharmacokinetic characteristics.
They are intended for the treatment of injections due to the
pathogens susceptible to metronidazole:
– Amoebiasis.
– Giardiasis.
– Lambliasis.
– Urogenital trichomoniasis.
– Non specific vaginitis.
– Curative treatment of medico-surgical infections due to susceptible anaerobic pathogens.
– Prophylaxis against infections caused by susceptible anaerobic pathogens in high risk surgical contexts.
– Following prophylactic or curative treatment by injection, of infections due to susceptible anaerobes.
Dosage and method of administration:
Amoebiasis:
– Adults: 1.50 g. daily, in 3 divided doses.
– Children: 30 to 40 mglkglday in 3 divided doses. In hepatic amoebiasis, at the abscess stage, the abscess must be evacuated concomitantly with metronidazole treatment. The duration of the treatment is 7 consecutive
days.
Giardiasis:
– Adults: 0.750 to 1 g daily for 5 consecutive days.
– Children: from 2 to 5 years: 250 mglday, from 5 to 10
years: 375 mglday, from' 1 0 to15years: 500 mglday.
Lambliasis: For 5 consecutive days,
– Adults: 750 mg to 19 per day.
– Children: from 2 to 5 years: 250 mg daily, from 5 to 10
years: 375 mg daily, from 10 to 15 years: 500 mg daily.
Trichomoniasis:
– In females (urethritis and vaginitis due to Trichomonas): single dose of 2 g or 500 mglday by oral route in two divided doses for 10 days. Whether or not the partner presents clinical signs of infection with Trichomonas vaginalis, he must be treated concurrently, even in the absence of positive laboratory tests.
– In males (urethritis due to Trichomoniasis): 2 g in a single dose, or 500 mg by oral route in 2 divided doses for 10 days. Non-specific Vaginitis: 500 rng, twice daily for 7 days. The partner must be treated simultaneously.Anaerobic infections (as first line or substitute treatment):
– Adults: 1 t01.5 g/day.
– Children: 20 to 30 mg/kg/day.
Surgical chemoprophylaxis:
The studies published in the literature do not make it possible to define the ideal protocol for surgical chemoprophylaxis. Metronidazole must be combined with a product active against Enterobacteria.
– Adults: One 500 mg dose every 8 hours. Beginning the treatment approximately 48 hours before surgery, appears to be effective. The last dose must be administered at the latest 12 hours before surgery. The goal of
chemoprophylaxis is to reduce the bacterial inoculum in the gastrointestinal tract at the time of surgery; it is therefore useless to continue the antibiotic in the post- operative period, at least by the oral route.
– Children: same protocol at a dosage of 20 to 30
mg/kg/day.
Contra indications :
Hypersensitivity to imidazoles.
Warnings and precautions:
Warnings
– Treatment should be discontinued in case of ataxia, vertigo, hallucinations or mental confusion.
– Risk of aggravation of the neurological condition must be taken into account in patients with active or chronic severe central or peripheral neurological disorders.
– Alcohol should be avoided during metronidazole administration and one day after because of the possibility of disulfiram-like reaction (Antabuse effect).
Precautions
– There is no suspicion of carcinogenicity in man although .the product has proved carcinogenic in a certain strain of mouse but not in rats or hamsters.
– Differential blood count especially leucocytes should be monitored, if there is a history of blood dyscrasia or in high dose and/or prolonged treatment than the recommended dosages. Should leucopenia occurs, treatment continuation will depend on the severity of the infection.
– Patients should be monitored for adverse reactions as peripheral and central neuropathy (i.e. parasthesia, .riizziness. ataxia, convulsive seizures).
– Metronidazole should be administered with caution in patients with hepatic encephalopathy.
Driving vehicles or performing other hazardous tasks:
Patients should be warned about the potential adverse reactions; confusion, dizziness, hallucinations, convulsions or transient visual disorders, and advised not to drive or operate machinery if these symptoms occur. Interactions with other medications:
– Disulfiram. Disulfiram may lead to delirium orrrrerrtal confusion (psychotic reactions).
– Alcohol: Alcoholic beverages and drugs containing alcohol should be avoised during treatment with metronidazole and at least one day after discontinuing treatment because of the possibility of disulfiram-like (antabuse effect)
reaction (flushing, vomiting, tachycardia).
– Warfarin: Because of the potentiation of oral anticoagulants effect and hemorrhagic risk (decrease in the oral anticoagulants hepatic catabolism), prothrombin level should be monitored more frequently. Oral anticoagulant
dosage must be adjusted during metronidazole treatment and 8 days after discontinuation.
– Vecuronium (non-depolarising neuromuscular blocking agent): Metronidazole potentiates the action of vecuronium.
– 5-fluoro-uracil: Metronidazole increases the toxic effect of 5 fluorouracil due to 5 fluorouracil reduced clearance.
– Lithium: Plasma levels of lithium may be increased by metronidazole. Plasma lithium concentration, creatinine and electrolytes should be monitored in patients who are co-administered lithium and metronidazole.
– Cyc/osporin: Risk of cyclosporin serum levels elevation. Serum cyclosporin and serum creatinine should be closely monitored when coadministration is necessary.
– Phenytoin or phenobarbital: Increased elimination of metronidazole results in reduced plasma levels.
– Busulfan: Plasma levels of busulfan may be increased by metronidazole, which may lead to severe busulfan toxicity.
Interactions with laboratory investigations :
– Metronidazole may immobilise Treponema and hence result in a false positive Treponema pallidum immobilisation test.
Pregnancy and lactation:
Pregnancy
– Metronidazole has not shown evidence of teratogenicity or fetotoxicity in animal studies.
– Case studies of several hundred pregnancies in which metronidazole was administered during the first trimester did not show evidence of any particular malformation.
– Studies of identical number of patients treated with metronidazole after the first trimester have not shown evidence of fetal toxicity. Therefore, pregnancy is not a contraindication for the use of metronidazole, however it should be used very cautiously in cases of necessity.
Lactation
Metronidazole should be avoided due to the fact that it passes into breast milk.
Undesirable effects:
– Psychiatric disorders: psychotic disorders including confusion, hallucination.
– Neurological disorders: peripheral sensory neuropathy, convulsions, headache, dizziness, vertigo, very rare reports of encephalopathy (e.g. confusion) and subacute cerebella syndrome (e.g. ataxia, dysathria, gait impairment, nystagmus, and tremor), which may resolve with discontinuation of the drug.
– Gastrointestinal disturbances: nausea, vomiting, diarrhea epigastric pain, taste disorders, anorexia, oral mucositis.
– Hypersensitivity reactions: urticaria, flushing, pruritus, rash, fever, angioedema, exceptional anaphylactic shocks, very rare pustular eruptions.
– Vision disorders: transient vision disorders (i.e. diplopia, myopia).
– Hematologic disorders: very rare cases of agranulocytosis neutropenia and thrombocytopenia have been reported.
– Exceptional and reversible cases of pancreatitis have been reported,
– Very rare cases of reversible abnormal liver function tests and cholestatic hepatitis have been reported.
– Furthermore, a reddish-brown urine has been observed, due to the presence of water soluble pigments yielded by degradation of the product.
Overdosage:
Single oral doses of metronidazole, up to 12 g have been reported. Symptoms were limited to vomiting, ataxia and slight disorientation. There is no specific antidote for metronidazole overdosages. In case of suspected massive overdosages, a symptomatic and supportive treatment should be instituted,
Pharmacodynamic properties:
Metronidazole is an anti-infective agent belonging to 5- nitroimidazole group.
Antibacterial spectrum of metronidazole concerns
exclusively anaerobic pathogens:
Susceptible species:
More than 90% of the species are susceptible(S). Peptostreptococcus, C. perfringens, C. difficile, Bacteroides fragilis, Bacteroides sp., Fusobacterium, Clostridium sp., Prevotella, Veillonella.
Species with inconstant susceptibility:
The susceptibility of the pathogens should be tested by an antibiogram.
Bijidobacterium, Eubacterium.
Normally resistant species:
More than 50% of the species are resistant (R). Propionibacterium, Actinomyces, Mobilincus.
Antiparasitic activity:
Trichomonas vagina lis, Giardia intestinalis, Entamoeba histolytica. _
Pharmacokinetic properties:
Bioavailability
– Metronidazole is rapidly absorbed following oral administration, at least 80% is absorbed in less than one hour.
– The serum peak concentrations achieved following oral administration are similar to those obtained following intravenous administration of equivalent doses.
– The oral bioavailability is 100% and not modified by ingestion of food.
Distribution
– After a single dose administration of 500mg of metronidazole the average peak serum level is of 1 Omg /ml. one hour after the ingestion.
– The plasma half-life is 8 tol0 hours.
– The plasma protein binding is low:< 20%.
– The volume of distribution is high, on average of 40 L (ie.0.65 b/ ~g).
– Diffusion is rapid and tissue concentrations are similar to serum concentrations in: lungs, kidneys, liver, skin, bile, CSF, saliva, seminal fluid and vaginal secretions.
– Metronidazole crosses the placental barrier and is excreted in breast milk.
Metabolism
Metronidazole is metabolised by oxidation in the liver into two metabolites:
– The alcoholic metabolite which has a bactericidal activity on the anaerobic pathogens on average 30% in comparison with the metronidazole and an elimination half-life of 11 hours.
– The acid metabolite is low with a bactericidal activity of 5%.
Elimination
– Hepatic and biliary concentrations are high. Colon and fecal concentrations are low
– Excretion is mainly urinary, metronidazole and its metabolites represent     to 6″')% of the ingested dose.
Expiry date :
Do not use later than the expiry date printed on the package
Storage :
Store below 25°C.
KEEPALL MEDICINES OUT OF REACH OF CHILDREN.
Presentations :
Box of 20 tablets
Box of 100 ml bottle.
Produced by:
sanofi-aventis egypt s.a.e.
Under licence of sanofi-aventis / France
–
–
–
–
–