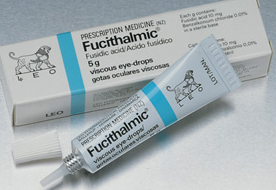 Fucithalmic"
Viscous eye-drops
Fucithalmic® is a sterile 1% aqueous sustained- release formulation of fusidic acid, preserved with benzalkonium chloride.
Properties:
FucithalmiC® is active against Staphylococci, Streptococci, Neisseria, Haemophilus, Moraxella and Corynebacteria. The sustained-release formulation of Pucithalmicw ensures a prolonged contact with the conjunctival
sac. A twice-daily application provides sufficient concentrations in all relevant tissues of the eye. Fucithalmicw penetrates well into the aqueous humour.
Indications:
Bacterial eye infections caused by susceptible organisms in conjunctivitis, blepharitis, sty, kerati- tis, dacryocystitis and in connection with removal
of foreign bodies.
Dosage:
One drop to be instilled into the eye twice daily. Treatment should be continued for at least two days after the eye appears normal.
Contra-indications:
Hypersensitivity to any component.
Precautions:
Contact lenses should not be worn when Fucithalmice viscous eye-drops are used.
Side-effects:
Transient stinging may occur. FucithalmiC® has a very low allergenic potential.
Discard 30 days after opening.
THIS IS A MEDICAMENT :
– Medicament is a product, but not like other products.- Medicament is a product which affects your health, and its consumption contrary to instructions is dangerous for you.
– Follow strictly the Doctor's prescription, the method of use and the instructions of the Pharmacist who sold you the medicament. The Doctor and Pharmacist are experts in medicaments, their benefits and their risks.
– Do not by yourself interrupt the period of treatment prescribed to you.
– Do not repeat the same medicament and do not increase doses without consulting your Doctor.
– Do not leave medicament within reach of children.
Fueithalmie"
Gotas oftalmicas viscosas :
Fucithalmic® es una formulaci6n acuosa esteril al 1 % de cesi6n sostenida del acido fusidico, preservada con cloruro de benzalconio.
Propiedades:
Fucithalmic® es activo frente a los estafilococos, estreptoccos, Neisseria, Haemophilus, Moraxella y Corynebacteria. La formulaci6n de cesi6n sostenida de Fucithalmic® asegura un contacto prolongado con el saco conjuntival. Una aplica- ci6n dos veces al dia brinda concentraciones sufi- cientes de acido fusidico en todos los tejidos involucrados del ojo. FucithalmiC® tiene gran poder para penetrar en el humor acuoso.
Indicaciones:
Infecciones bacterianas del ojo causadas por microorganismos sensibles en la conjuntivitis, blefaritis, orzuelo, queratitis, dacriocistitis y al retirar cuerpos extra nos.
Posologia:
Se aplica una gota al ojo dos veces al dia. El trata- miento debe continuarse dos dias. como minimo, despues de recuperar el ojo su aspecto normal.
Contraindicaciones:
Hipersensibilidad a cualquiera de los componentes.
Precauciones:
Lentes de contacto no deben de usarse cuando se apliquen FucithalmiC® gotas oculares viscosas.
Efectos secundarios:
Se ha presentado escozor transitorio. FucithalmiC® tiene un potencial alerqenico muy bajo. Desechar 30 dfas despues de abrir.
Esto es un medicamento :
– Un medicamento es un producto, aunque es diferente a otros productos.
– Un medicamento es un producto que afecta a la salud, y su administraci6n contraria alas instrucciones puede resultar peligroso para Ud.
– Siga rigurosamente tanto la prescripci6n del medica como el modo de empleo y las instruc- clones dadaspor el farrrraceutico queie vendio – el medicamento. Los medicos y los farmaceuticos son expertos en los medicamentos, sus ventajas y peligros.
– No interrumpa Ud. solo el perfodo de tratamiento prescrito.
– No rep ita el medicamento y no aumente la dosis sin previa consulta con su rnedico,
– Debe mantenerse fuera del alcance de los nifios
produced by :
LEO Pharmaceutical Products
Ballerup – Denmark – Dinamarca