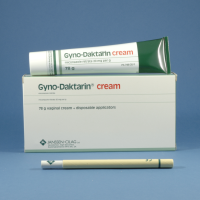 Gyno-Daktarin
for vaginal use only
description :
Gyno-Daktarin cream contains the synthetic bacteri- cidal and fungicidal broad-spectrum antifungal agent, miconazole nitrate. Each gram contains 20 mg rnico- nazole nitrate. The cream formulation consists of macrogol 6-32 stea-
rate and glycol stearate, peglicol 5 oleate, liquid paraffin, benzoic acid, butylated hydroxyanisole and purified water.
properties :
Pharmacodynamics
Miconazole combines a potent antifungal activity against common dermatophytes and yeasts with an antibacterial activity against certain gram- positive bacilli and cocci. Miconazole inhibits the biosynthesis of ergosterol in fungi and changes the composition of other lipid components in the membrane, resulting in fungal cell necrosis. In general, miconazole exerts a very rapid effect on pruritus, a symptom that frequently accompanies dermatophyte and yeast infections. Pharmacokinetics Systemic absorptioo after intravaginal administration is limited. Eight hours after application 90 % of miconazole
nitrate is still present in the vagina. Unchanged mice- nazole could not be traced in blood plasma or urine.
Indications :
Local treatment of vulvovaginal candidiasis and super- infections due to gram-positive bacteria. Gyno-Daktarin cream may also be used for the treatment of mycotic balanitis.
contra-indications :
Gyno-Daktarin cream is contraindicated in individuals who have shown hypersensitivity to miconazole or another ingredient of the cream.
warnings and precautions :
If local irritation or an allergic reaction should occur, the treatment should be discontinued. General hygienic measures should be observed to control sources of infection and reinfection. Appropriate therapy is indi- cated if the sexual partner is also infected. Gyno-Daktarin cream does not stain skin or clothes.
interactions :
Contact should be avoided between latex products such as contraceptive diaphragms or condoms and Gyno-Daktarin since the rubber might be damaged.
pregnancy and lactation :
Although intravaginal absorption is limited, Gyno- Daktarin should only be used in the first trimester of pregnancy only if, in the judgement of the physician, the potential benefits outweigh the possible risks. It is not known whether miconazole nitrate is excreted in human milk. Caution should be exercised when using Gyno-Daktarin cream during lactation.
dosage and administration :
Once daily before retiring, the contents of 1 applicator (about 5g of cream) should be squeezed deeply into the vagina. Repeat this procedure for 7 days, even after pruritus and leukorrhoea have disappeared.
directions for use :
1- To open the tube unscrew the cap. Then pierce the seal of the tube by means of the pin on the top of the cap. Replace the cap by the applicator.
2- Push on end of tube to bring the cream into applicator. If the piston shows resistance, pull gently. The appli- cator should completely be filled, unless the practis- ing physician prescribes otherwise.
3- Remove applicator from tube. Close tube instantly with care.
4- While lying down, knees bent and spread out, insert applicator into vagina as deeply as possible. Press piston completely. Then remove the applicator.
directions for cleansing the applicator
Pull the 2 parts apart and wash them with lukewarm water and soap. Dry them and assemble the appli- cator by pushing the inner part back into the outer
part. If the doctor specifically recommends sterilisation of the applicator, his directions for use should be fol- lowed. Never use water that is hotter than 50'C and never use ether. Keep the applicator in a case or another clean housing.
adverse reactions :
Adverse reactions are rare and are mild in most cases. Most frequently reported were local irritation, pruritus and burning sensation, especially at the start of the treatment. Complaints of pelvic cramping, hives, skin rash have also been reported.
overdosage :
In the event of accidental ingestion of large quantities of the drug, an appropriate method of gastric emptying may be used if considered appropriate.
how supplied :
Gyno-Daktarin cream is supplied in a tube containing 40 g with an applicator.
storage conditions :
– Store between IS' and 30'C.
– Keep out of reach of children.
produced by :
MINAPHARM Under Licence 01
JANSSEN PHARMACEUTICA – Belgium