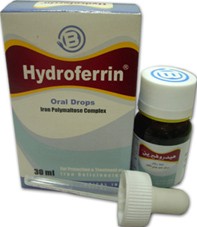 Hydroferrin ®
Iron polymaltose complex
Oral Drops
Protection & Treatment of Iron Deficiencies
Composition:
Each 1 ml solution contains:
Elemental iron . 50 mg (As iron polymaltose complex)
 Properties:
– Hydroferrin e Oral Drops is a unique formulation containing iron in a very effective, well tolerated and rapidly absorbed non-ionic complex.
-Absorption of iron from Hydrof.rrln eOral Drops is not affected by food or milk.
-HydroferrlneOral Drops has palatable, non-metallic. caramel taste.
– Hydroferrin "Oral Drops unlike other ionized iron preparations. has:
.No deleterious effect on copper and zinc levels .
. A lower incidence of GIT side effects .
. No teeth staining effect.
. Excellent safety profile concerning overdosage.
Indications:
Hydroferrin· Oral Drops is indicated in the prevention and treatment of all kinds of iron deficiencies particularly iron deficiency anaemia.
Dosage and administration:
Age group                           Prophylactic dose                  Treatment dose
1- infants (5-10 "g):       1/4 ml once daily                      1/2 ml once daily
2· Children (2·6 years): 1/2 ml once daily                      1/2 ml twice daily
3-Chi/dren (6-12 yS/lrs): 1 ml once daily                       1 ml twice daily
4· Adults:                           1 ml twice daily                       1 ml three times daily
* premllure babies (less than 1.5 KII): 3 mg of elemental iron I Kg body weight daily;
approximately 2 drops (each drop contains 1.67 mg elemental iron).
Side effects:
Generally, iron-containing oral preparations may develop gastrointestin  irritations; nausea, constipation or diarrhea. However, the incidence ( these. side effects is reported to be reduced with iron polymaltos preparations.
Contra-indications:
Hypersensitivity to any of the ingredients.
Precautions and warnings:
The feces may be colored black during administration of this medication.
Drug interactions:
There are no reports of interaction between iron polymaltose and foods ( medicines.
Pregnancy and lactation:
– Administration of iron chelate complex during pregnancy has no effect 0 the fetus.
– Administration of iron chelate complex is possible during lactation.
Package and storage:
– Box containing a bottle of 30 ml oral drops and insert leaflet.
– This medication is to be stored in a dry dark place at a temperature ne exceeding 30°C. .
– To be used only under physician's supervision.
– Keep all medicaments out of reach of children
Produced by :
Borg pharmaceutical ind
Borg EI-Arab new city -Industrial zone 3
Alexandria – Egypt