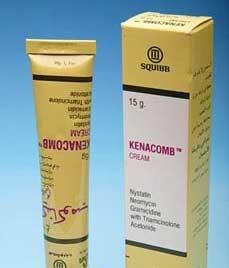 KENACOMB
CREAM – OINTMENT
COMPOSITION:
Each gm. contains:
Nystatin (Squibb Mycostatin)                          100,000 units
Neomycin base (as Neomycin sulphate)     2.5 mg.
Gramicidin                                                               0.25 mg.
Triamcinolone Acetonide                                 1.0 mg.
Base: perfumed vanishing cream for the Kenacomb Cream and plastibase for the Ointment (Squibb polyethylene- mineral oil gel base ).
ACTION:
– Anti-inflammatory
– Antipruritic
– Antifungal
– Antibacterial
Triamcinolone Acetonide is a potent topical steroid with marked anti inflammatory, antipruritic and antiallergic effects. It provides rapid, complete and often prolonged control of the symptoms and signf. cutaneoue
inflammation.
Nystatin provides specific anticandidal activity, specially against candida albicans. Neomycin and Gramicidin provide combined action against a wide range of Gram- positive and Gram-negative bacteria. With this combination
bacterial resistance has not been a problem.
INDICATIONS:
– Atopic eczema
– Nummular eczema
– Contact eczema
– Post traumatic infective eczema
– Follicular eczema
– Seborrheic eczema
– Infantile eczerna
– Stasis eczema
–  Otitis externa
– Neurodermatitis
– Anogenital pruritis
–  Psoriasis
Because of the high incidence of pathogeniC bacteria or  fungi which can complicate the response to plain cortico steroids used on apparently non-infected skin conditions, treatment with Kenacomb is rational and effective.
APPLICATIONS:
Apply a thin film to the affected area 2-3 times daily.
CONTRAIHDICATIOHS:
Skin tuoerculosis, most viral lesions (herpes Simplex, vaccinia and 'varicella) and fungal lesions not susceptible  to Nystatin.
PRECAUTION:
Occlusive dressing should be avoided. In infants, long-term continuous topical steroid should, be avoided for fear of adrenal suppression. In animals, topical steroid adminis- tration may cause abnormalities in foetal development. The
relevance of this finding to human beings has not been established, however, prolonged use in ….,.ge amounts should not be practiced during pregnancy. The unproven theoretical teratogenic hazard must be placed in pers- pective against the need for corticosteroids 1.0 maintain the health of patients.
SIDE EFFECTS:
Kenacomb is well tolerated, systemic toxicity has not been a 'problem, Sensitivity to Neomycin and/or Gramicidin may occur.
PRESENTATION:
Ointment : Tubes of 5, 10 and 15 gm.
Cream : Tubes of 5, 10 and 15 gm.
produced by :
Bristol- Myers Squibb Egypt
Bristol-Myers  Squlbb Company
New York Cairo