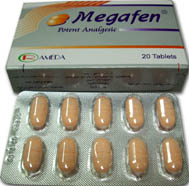 Megafen
( Ibuprofen & Paracetamol)
Tablets & Suspension
COMPOSITION:
Tablets: Each tablet contains:
ibuprofen     200 mg
Paracetamol     325 mg
Suspension: Each teaspoonful (Srn!) contains:
lbuprofen     100 mg
Paracetamol     162.5 mg
DESCRIPTION:
Megafen is a combination of two well effective, safe agents; Ibuprofen and Paracetamol
* lbuprofen is a time tested non-steroidal anti-inflammatory, which possesses analgesic and antipyretic activities.
* Paracetamol is an effective antipyretic, analgesic with mild anti-inflammatory properties. Combining these two agents which act by two different mechanisms gives a dual effect in the treatment of pain and fever.
INDICATIONS:
Megafen is indicated in the treatment of minor aches and pains such as headaches, toothaches, muscular aches, backaches, pain due to inflammation and for reduction of fever with any of the above conditions
CONTRAINDICATIONS :
*Allergy to any pain reliever.          * Peptic ulcer.                       * Asthma.
*Hepatic and renal impairment.     * Alcohol dependence.
 PRCAUTIONS:
egafen can oe given to pregnant and lactating women only if potential benefits outweigh the risks.
DRUG INTERCATIONS :
Caution should be taken while using Megafen with the following:
* Anticoagulants   *Cytotoxics    * Antibacterials     * Antidiabetics     * Lithium
* vasodttarors        *Aruiepileptics    *Antidepressants     * Diuretics
*ACE inhibitors & Angiotensin II antagonists.( Ibuprofen antagonizes the hypotensive effects).
 WARNINGS: Do not use:-
*With any other product that contains Ibuprofen or other pain reliever / fever reliever, unless  directed by a doctor.
*FOr more than 3 day f feve r pairrtmtess trrrecred by a doctor.
*For stomach pain unless described by a doctor.
SIDE EFFECTS:
MEGAFEN is generally well tolerated, but may cause mild nausea, vomiting, dyspepsia skin rashes, hepatic disturbances, dizziness, bronchospasm and insomnia.
DOSAGE AND ADMINISTRATION:
Adults and Children (12 years and over) one tablet three times daily preferably during meals to decrease side effects.
Children (6-12 years): half tablet or one teaspoonful of suspension three times daily preferably during meals to decrease side effects.
Children (1-6 years) one leaspoonful three times daily. preferably during meals.
N.B. : MEGAFEN suspension is not recommended for children below 6 months of age or below 7 kg in weight
PRECAUTIONS & WARNING:
Cardiovascular Risk
NSAIDs may cause an increased risk of serious cardiovascular thrombotic events, myocardial infarction, and stroke, which can be fatal. This risk may increase with duration of use. Patients with cardiovascular disease or risk factors for cardiovasculardisease may be at greater risk. NSAIDs is contraindicated for the treatment of peri-operative pain in the setting of
coronary artery bypass graft (CAB G) surgery.
Gastrointestinal Risk
NSAIDs cause an increased risk of serious gastrointestinal adverse events including inflammation, bleeding, ulceration, and perforation of the stomach or intestines. which can be fatal. These events can occur at any time during use and without warning symptoms. Elderly patients are at greater risk for serious gastrointestinal events.
STORAGE :
Keep at room temperature (30°C).
PRESENTATION :
Megafen Tablets:     Boxes of 10 or 20 Tablets in strips.
Megafen Suspension: Bottles of60 or 120 ml.
Keep all medicaments out of reach of children
Manufactured by:
RAMEDA
(lliE TENTH OF RAMADAH) t».
For Phannaceulical Indttstries& Diagnostic Reagenls.
SlhofOClobefCityA.RE.