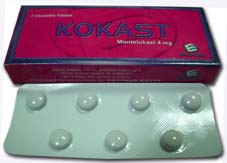 Kokast montelukast 4 mg
Composition:
Each tablet contains
Montelukast 4 mg
Indications:
Kokast is indicated for:
– the prophylaxis and chronic treatment of asthma in children 12 month of age and older
– relief of symptoms of allergic rhinitis in children 2 years of age and older
Posology & Method of administration:
'"the recommended daily dose is 1 tablet/day
N.B:
– For patients with asthma, dose should be taken in the evening.
– For patients with seasonal allergic rhinitis. dose may be taken at any time of the day . which suits the patient
– For patients with both asthma & seasonal allergic rhinitis. dose should be taken in the evening
Contraindicationa:
Hypersensitivity to any of the product components .
Warning & precautions:
Safety and efficacy of kokast have been established in adequate and well controlled studies in pediatric PaUents with asthma (6-14 years of age) safety and efficacy profiles in this age group are similar to those seen in adults :
– Kokast can be oontinoed besides the adequate medication for acute exacebation of asthma.
– Kobst should not be taken concomitantly With aspirin or NSAIDs,
– patients should be Instructed not to decreese the dose or stop taking any other anti-asthma medications unless instructed
– Kokast contains phenylalanine (acomponent of aspartame ) so patients with phenylketonurea should be informed
– Kokast should not be abruptly substituted for inhaled or oral corticosterotds
– Kokast should not be used as monotherapy for the treatmedt and management of exercise induced bronchospasm
– physician should be alert to eosinophitia vacuities rash worsening pulmonary symptoms cardiac complications and/or neuropathy presenting in their patients with asthma 0f1 therapy with kckeet.
Drug Interactions:
In general, kokastwith recommended clinical dose did not have clinical important effects 0f a Wide range of other druge especially those used concomitantly  in the prophylaid,&treatmentof asthma. Phenobarbital or rtfampin (potent cytochrome p450 enzyme inducers)which induces hepatic metabolism. decreases the AUC of montelukast approx. 40% following a single 10 mg dose of montelukast
Warning & precautions :
– Pregnancy: kokast shou&d be used during pregnancy if clearty needed
– Nursing mothers : Beceuse many drugs are excreted in human rruIk. cecnoo should be exercised when kokast is given to nursing mother.
– Pediatric use: the safety and effectiveness in pediatric below the age of 12month have not been established.
How Supplied:
• Box of 7 dlewable tablets in a blister.
Store below 30 ·Ct protect from light
Keep in dry place. Keep out of the teach of children
Produced by :
EGYPHAR
Obour City· Egypt