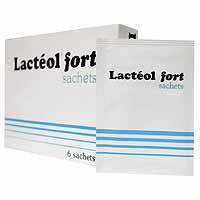 Lacteol fort
( Lactobacillus LB )
Sachets
==========RAMEDA ========
COMPOSITION:
Each Sachet contains:
Lactobacillus LB
Corresponding to lactobacillus delbruekii and lactobacillus fermentum 10 billions
PROPERTIES :
Antidiarrheal of microbial origin,with :
* 'Enterocytes shielding property against the approach of pathogenic microorganisms.
* Non-specific immunostimulation of the mucosa (increases synthesis of IgA)
* Direct bacteriostatic action, and stimulation of the growth of the defensive acidogenic intestinal flora.
INDICATIONS:
Symptomatic treatment of diarrheas .
DOSAGE AND ADMINISTRATION:
To be taken at the first sign of diarrhea
Number                                               First day                                 Following days
of
Sachets                                      1st dose     2nd dose                     1st dose     2nd dose
Infants ( * )                                   1                    1                                       1                   1
Children                                    1 to 2                1                                       1                   1
Adults                                            2                    1                                        1                   1
Contents of Sachet can be mixed into water
( * ) Infants ( below 2 years) : to be used in conjunction with rehydratio therapy.
USAGE DURING PREGNANCY:
No known teratogenic effects have been reported.
SIDE EFFECTS:
No side effect has been so far reported.
INCOMPATIBILlTIES AND INTERACTIONS:
No known incompatibilities and drugs interactions have been reported.
STORAGE :
Keep in a cool dry place
PRESENTATION:
Box of 6 sachets.
Keep all medicaments out of reach of children
Manufactured by :
RAMEDA
( THE TENTH OF RAMADAN ) Co.
For Pharmaceutical Industries & Diagnostic Reagents.
6 th of October City A.R.E.
Under Licence of: AXCAN PHARMA SA – France