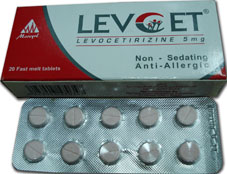 LEVCET
Non-Sedating Anti Allergic
Composition :
Each fast melt tablet contains 5 mg levocetirizine dihydrochloride
Indications:
Seasonal Allergic Rhinitis
Perennial Allergic Rhinitis
Allergic Conjunctivitis
Chronic Idiopathic Urticaria
Dosage & Administration:
Levcet fast melt tablet is taken orally before or after meal, can be swallowed with water or place the tablet on the tongue and it dissolves quickly so you don't need water to swallow it.
It is recommended to take the daily dose one single intake. The recommended daily dose for adults & children above 6 years is 5 mg tablet.
Patients with Hepatic Impairment:
No dose adjustment is needed.
Patients with Renal Impairment:
The dosing intervals must be individualized according to renal function, refer to the following table & adjust the dose as indicated
Group                                    Creatinine Clearance (mVmin)                      Group
Normal                                                           > 80                                  1 tablet once daily
Mild                                                               50 -79                                1 tablet once daily
Moderate                                                    30 – 49                          1 tablet every 2 days
Severe                                                             < 30                            1 tablet every 3 days
End-stage renal                                           —-                               not recommended
Disease
Interaction with other products:
No interaction studies have been performed with levocetirizine, studies with the racemate compound cetirizine demonstrated that there were no clinically relevant adverse interactions with pseudoephedrine, cimetidine, ketoconazole, erythromycin, azithromycin, glipizide & diazepam. A small decrease in the clearance of cetirizine (16%) was observed in a multiple dose study with theophyline (400 mg once daily).
Contra-Indications:
Not to be given to children below two years History of hypersensitivity to levocetirizine or any other constituents of the formulation or any piperazine derivatives.
Pregnancy & Lactation:
No adverse reactions have been observed in animal reproduction studies. However as there is no controlled studies on pregnant women are available,levocetirizine like other drugs should not be used during pregnancy. In case of accidental intake during pregnancy, no harmful effect on the foetus is anticipated. Treatment should nevertheless be interrupted immediately. Levocetirizine is expected in breast milk, it should not be administered when breast feeding.
Undesirable Effects:
The following side effects have been reported in more than 1 % of the patients taking 5 mg levocetirizine: dry mouth, headache, somnolence, fatigue and asthenia.
Managment of Overdose:
There is no specific antidote of levocetirizine. If overdose occur, symptomatic or supportive treatment is recommended.Gastric lavage should be considered
following short term ingestion.
Presentation:
Tablet: packaging of 20 fast melt tablet in 2 strips
Keep all medicine out of reach of children
Produced by:
Marcyri Pharmaceutical Industries
El obour City – Egypt