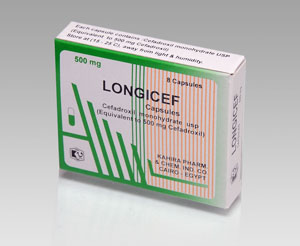 LONGICEF
(CEFADROXIL)
Properties:
LONGICEF is a semisynthetic Cephalosporin antibiotic for oral administration.
LONGICEF is highly stable in the presence of beta – lactamase enzymes.
LONGICEF has been shown to be active against most
strains of the following organisms:
– Gram-positive organisms. Streptococcus pneumoniae, Streptococcus pyogens.
– Gram-negative. Escherichia coli. Klebsiella pneumoniae, Haemophilus
influenza, Salmonella & Shigella species.
Indications & Usage:
LONGICEF is indicated in the treatment of acute bronchitis, otitis media, pneumonia, lung abscess, skin and soft tissue infections & urogenital infections like pyelitis, pyelonephritis, vulvovaginitis … etc.
Side Effects:
Side effects are mild & transient, those reported include:
– Gastrointestinal events: diarrhea, nausea & vomiting.
– Hypersensitivity reactions: skin rash, urticaria.
– Transient elevation in serum transaminases.
– With prolonged use of LONGICEF, monilia vaginitis and rarely pseudomembranous colitis may occur.
Contraindications:
History or suspected hypersensitivity to cephalosporins. In patients hypersensitive to penicillins (cross allergy). Longicef should be used with caution in person with history of severe allergies or asthma.
Warnings & Precautions :
– Careful inquiry should be made for previous hypersensitivity reactions to Cephalosporins, Penicillins or other drugs.
– Prolonged use of an anti-infective may result in overgrowth of non-susceptible organisms e.g. fungi as candida.
– LONGICEF should be prescribed with caution to individuals with a history of gastrointestinal diseases particularly colitis.
– Safety for use during pregnancy has not yet been established.
– Symptoms of vitamin K deficiency( hernorrhage) or vitamin B deficiency (stomatitis, glossitis, neuritis, anorexia, etc … ) can occur with prolonged treatment with LONGICEF.
Drug interactions:
– Treatment with Longicef in combination with arninoglycoside antibiotics, polymtxin B or high dose loop diuretics should be avoided since such combinations can potentiate the nephrotoxic effects.
– Frequent check on coagulation parameters are necessary when cephalosporins (high doses) are given with anticoagulants to avoidhemorrhagic complications.
– Longicef may attenuate the effect of oral contraceptives
Dosage & Administration: (Orally)
It is better to take LONGICEF with food.
– LONGICEF Capsules Soo mg/capsule Adults & Children over 12 years: 1-2 capsules twice daily. Children over 6 years: 1 capsule twice daily.
– LONGICEF Suspension 125 mg/Sml Children below 1 year: 25 mg I kg daily in 2 divided doses. Children 1 – 6 years: 2 teaspoonfuls twice daily
– LONGICEF Suspension 2S0 mg/Sml Children 1 – 6 years: 1 teaspoonful twice daily. Children over 6 years: 2 teaspoonfuls twice daiJy.
RECONSTITUTION:
LONGICEF 125 mg & 250 mg suspension To make up to 60 ml, first invert bottle &shake powder loose, then add 40 ml of boiled cooled water in 2 portions.
shaking after each addition until a homogenous suspension is achieved .Shake well before use.
Presentation:
LONGICEF capsules. each capsule contains 500mg cefadroxil.
LONGICEF granules for oral suspension 125 mg/ Sml.
LONGICEF granules for oral suspension 250 mgi5ml .
After reconstitution of contents according to label.
After reconstitution refrigerate for 14 days, discard after 14 days.
Packing:
– Plastic container contains 33 gm granules (constituted to 60 ml with water).
– Boxes of 8 capsules (J strip x 8 capsules).
Storage:
LONGICEF capsules: Store at ( 15 – 25· C ). away from light & humidity.
LONGICEF granules .Store atatcmperature not exceeding + 30·C, protected from light & humidity.
Produced by :
KARlRA PHARM. & CHEM. IND. CO.
CAIRO – EGYPT