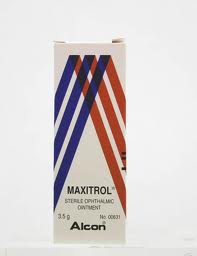 MAXITROL®
Sterile Ophthalmic Ointment
DESCRIPTION:
MAXITROL ® (Dexamethasone 0.1 %, Neomycin Sulfate, Polymyxin 8 Sulfate) is a multiple dose anti- infective steroid combination in sterile ointment form for topical application,
This ophthalmic preparation of Maxitror combines two antibiotics offering broad spectrum antibacterial activity with the anti-inflammatory activity of a new corticosteroid, dexamethasone, for combating certain microbial infections of the anterior segment of the eye(s). Each gram of ointment contains:
Active:
Dexamethasone 0.1 %, Neomycin Sulfate equivalent to Neomycin 3.5 mg/g, Polymyxin 8Sulfate 6,000 units/g.
Preservatives:
Methylparaben 0.05 %, Propylparaben 0.01 %. Inactive: White Petrolatum, Anhydrous Liquid Lanolin.
CLINICAL PHARMACOLOGY:
Corticoids suppress the inflammatory response to a variety of agents and they probably delay or slow healing. Since corticoids may inhibit the body's defense mechanism against infection, a concomitant antimicrobial drug may be used when this inhibition is considered to be clinicall si nificant in a particular case.
The anti-infective component in the combination is included to provide action against specific organ- isms susceptible to it. Neomycin Sulfate is considered active against the following microorganisms:
Staphylococcus aureus, Corynebacterium diphtheriae, Streptococcus viridans, Escherichia coli, Klebsiella pneumoniae, Proteus vulgaris, Aerobacter aerogenes, and Haemophilus influenzae. POlymyxin 8 Sulfate is considered active–against th following microorganisms: Pseudomona aeruginosa, Aerobacter aerogenes, Escherichia coli, Klebsiella pneumoniae, and Koch-Weeks bacillus.
When a decision to administer both a corticoid and an antimicrobial is made, the administration of such drugs in combination has the advantage of greater patient compliance and convenience, with the added assurance that the appropriate dosage of both drugs is administered, plus assured compatibility of
ingredients when both types of drugs are in the same formulation and, particularly, that the correct volume of drug is delivered and retained.
The relative potency of corticosteroids depends on the molecular structure, concentration and release from the vehicle.
INDICATIONS AND USAGE:
MAXITROL is indicated in ocular inflammation when concurrent use of an antimicrobial is judqed, necessary.
CONTRA/NO/CATIONS:
Epithelial herpes simplex keratitis (dendritic keratitis), vaccinia, varicella, and many other viral diseases of the cornea and conjunctiva. Mycobacterial infection of the eye. Fungal diseases of ocular structures. Hypersensitivity to a component of the medication. (Hypersensitivity to the antibiotic component occurs at a higher rate than for other components).
The use of this combination is always contraindicated after-uncomplicated removal of a corneal foreign body.
WARNINGS:
Prolonged use may result in glaucoma, with damage to the optic nerve, defects in visual acuity and fields of vision, and posterior subcapsular cataract formation. Prolonged use may suppress the host response and thus increase the hazard of secondary ocula infections. In those diseases causing thinning of the cornea or sclera, perforations have been known to occur with the use of topical steroids. In acute purulent conditions of the eye, steroids may mask infection or enhance existing infeotlon. If these products are used for 10 days or longer, intraocular pressure should be routinely monitored even though it may be difficult in children and uncooperative patients. Employment of steroid medication in the treatment of herpes simplex requires great caution.
PRECAUTIONS:
The initial prescription and renewal of the medication order beyond 8 g should be made by a physician only after examination of the patient with the aid of magnification such as slit lamp biomicroscopy and, where appropriate, fluorescein staining. The possibility of persistent fungal infections of the cornea should be considered after prolonged steroid dosing.
ADVERSI; REACTIONS:
Adverse reactions have occurred with steroid/anti-infective combination drugs which can be attributed to the steroid component, the anti-infective component, or the combination. Exact incidence figures are not available since no denominator of treated patients is available.  Reactions occurring most often from the presence of the anti-infective ingredient are allergic sensitizations. The reactions due to the steroid component in decreasing order of frequency are:
elevation of intraocular pressure (lOP) with possible development of glaucoma, and infrequent optic ?erve damage: posterior subcapsular cataract formation: and delayed wound healing. Secondary infection." The development of secondary infection has occurred after use of combinations containing steroids and antimicrobials. Fungal infections of the cornea are particularly prone to develop coincidentally with long-term applications of steroid. The possibility of fungal invasion must be considered in any persistent corneal ulceration where steroid treatment has been used. Secondary bacterial ocular infection following suppression of host responses also occurs.
DOSAGE AND ADMINISTRATION:
MAXITROL ® Ointment: Apply a small amount into the conjunctival sac(s) up to three or four times daily or, may be used adjunctively with drops at bedtime.
AVAILAIBLE DOSAGE FORMS:
Maxitrol supplied in 5 ml sterile Drop-Tamer" dispensers. (Rx)
Maxitrol Ointment in a 3.5 g ophthalmic tube.
produced by :
ALCON COUVREUR (Belgium)