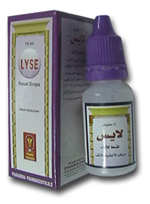 LYSE
Nasal moisturizer
Nasal drops
Benzyl alcohol free
COMPOSITION:
Each 100 ml isotonic solution contains:
Sodium chloride             0.65 g
Sodium bicarbonate      0.123 g
Benzalkonium chloride (as preservative             0.02 g
PROPERTIES:
LYSE nasal drops help to clean the nose in a gentle and
soothing manner. LYSE moistens the nasal mucosa and
dilutes nasal secretions while maintaining the humidity
of mucous membranes. Lysis of mucus is enhanced by
the slightly alkaline pH of the solution. LYSE is a safe,
well tolerated preparation recommended for adults and
children.
INDICATIONS:
For dry nasal membranes diused-tly chronic sinusitis,
allergy, asthma, dry air and oxygen therapy. LYSE cleans
nose in a gentle manner and is specifically recom-
mended for babies.
DOSAGE & APPLICATION:
1-2 drops into each nostril several times daily according
to the case.
PACKING:
A dropper bottle of 15 ml.
STORAGE:
Keep at a temperature (15-30°C).
Keep out of reach of children.
PRODUCED BY :
PHARAONIA PHARMACEUTICALS
New Borq EI·Arab City Alexandria. A. R. E.