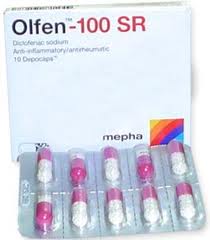 OLFEN 1 00 SR Depocaps
Antirheumatic, anti-Inflammatory and analgesic
Composition:
Each OLFEN -100 SR Oepocaps contains:
Diclofenac sodium  (as sustained release pellets)
Properties :
– Olfen (diclofenac) belongs to the non sterotcat anti-inflammatory groups and exhibits marked anti-rheumatic, anti- inflammatory, analgesic and antipyretic properties
-Olfen inhibits prostaglandin synthetase necessary for the production ofProstaglandin which has a major role in originating inflammation, pain and fever.
– OLFEN is thus suitable for the treatment of rheumatic states, non rheumatic inflammatory conditions and pain.
– OLFEN Depocaps contain many small units of so called pellets within a hard gelatin capsule from which Diclofenac is released in a programmed manner, in relation to PH and time. Diclofenac is released from the Depocaps over a long period of time so that a prolonged action is ensured. The once daily dosage particularly simplifies long term treatment with OLFEN. An additional advantage of this dosage form is that high concentrations of the active ingredient never come into contact with the gastrointestinal mucosa, as the pellets scatter over a large area. This results in not only better tolerance, but also in more reliable absorption. Depocaps capsules are suitable for patients whose clinical condition indicates a daily dose of 100 mg.
Mepha special technologies and know-How of Depocaps combine the following benefits:
– Stable blood levels within the therapeutic range over longer periods of time.
–  Avoidance of unnecessarily high concentrations of active substance
– Improved substance utilization
– Improved patient compliance
Pharmacokinetics:
Diclofenac is completely absorbed from the Depocaps.
– As a result of delayed release of the active ingredient the peak plasma concentrations attained are lower than those achieved following the administration of conventional dosage forms. After reaching the peak, the plasma concentrations remain measurable for some hours. Absorption is slower when the Depocaps are ingested with or after meals than on an empty stomach. The mean peak plasma concentration ranges from 0.4-0.8 Jjg/ml (mean 0.6 Jjg/ml) and is attained within 5 hours after ingestion of the Depocaps 100.
The half life in plasma is 1·2 hours. No accumulation occurs provided that dosage intervals are observed. The maximum concentration of Oiclofenac in the synovial fluid is attained 2-4 hours after the peak plasma value has been attained. The half life for elimination from the synovia! fluid is 3-6 hours. The concentrations of Oiclofenac in the synovial fluid become higher than in the plasma after only 4-6 hours and remain higher for up to 12 hours. Elimination is about 2/3 renal and about 1/3 via the bile in the metabolized form. The greater amount of the hydroxyl-glucuronide and sulphated metabolites are biologically inactive. Only about 1% of the active dlclotenac is usually excreted in unchanged form.
Indications:
Inflammatory and degenerative articular and extra articular rheumatic diseases of muscles, joints, joint capsules, bursae, tendons, tendon sheaths, and vertebral column such as in chronic rheumatoid arthritis, arthritis, arthrosis, spondyl-arthrosls. ankylosing spondylitis, soft tissue rheumatism, bursitis, tendovaginitis, tendinitis,
lumbago, sciatica, and other types of neuritis and neuralgia.
– Painful syndromes of the vertebral column
– Acute gout attack
– Painful post traumatic and post operative inllammation and swelling.
– Painful and/or inflammatory conditions in gynaecology e.g. primary dysmenorrhea or adnexitis
Dosage and administration:
– Children: OLFEN Depocaps is not suitable for children .
–  Adults : One Depocaps of 1 00 mg SA per day 10 be taken un chewed with a glass of water before meals. If necessary, the daily dosage can be increased to 150 mg per day by prescribing one OLFEN-50 tactab. To prevent nocturnal pain and morning stiffness, one Depocaps is recommended before retiring.
Contraindications:
OLFEN must not be used in the presence of peptic ulcers, pregnancy, lactation, hypersensitivity (e.g. With asthma attacks, skin reactions, acute rhinitis) to acetylsalicylic acid or other non steroid anti-inflammatory agents, severe disorders of liver function or haemopoiesis disorders.
Precautions:
Patients with evidence of peptic ulcers in their history, those with unexplained gastrointeslinal disorders, those with liver or kidney damage and those with high blood pressure as welt as elderly patients require attentive medical supervision.
Patients who suffer from asthma, hay fever, nasal polyps, or chronic airwaysinfections and patients with hypersensitivity to anatqesics and rheumatic drugs of all types are threatened with asthma attacks when using OLFEN (SO cetted enatcestc-mtoterance. enatqeslc fnducecrasthrrra)
Adverse effects:
Gastrointestinal upsets , upper abdominal bain , eructation , nausea , diarrhea , light headedness or headaches at the start of treatment . these adverse effects are generally mild and usually  regress after afew daysHypersensitivity reactions such as skin rash and pruritis, asthma attacks and a tendency to oedema may arise.
Interactions:
The simultaneous use of OLFEN with Lithium products or digoxin products increases the lithium or the digoxin levels in the blood. In the case of simultaneous treatment with potassium sparing diuretics, particular monitoring of serum potassium-levels is required since OLFEN, like other (nonsteroid) antirheumatics, can lead 10 an
increase in potassium values (hyperpotassaemia). The simultaneous administration of corticoids or other anti-inflammatory agents lncreases the risk of qastrointestinal bleeding. An inhibition of action of diuretics such as furosemide or elhacrynic acid is possible as is a weakening of the action of antihypertensive drugs. The simultaneous administration of acetylsalicylic acid leads to a decrease in the blood concentration of the active agent diclofenac.
Presentation:
OLFEN-,OO SA Oepocaps
Box of one blister of 10 Depocaps.
produced by :
Medical Union Pharmaceuticals Co.
Abu Sultan – Ismaillia – Egypt
Under licence from
MEPHA LTD., Basel, SNitzerland