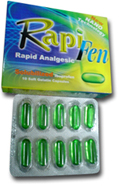 rapifen




Soft Gelatin Capsules




Rapid pain reliever I Fever reducer
Composition:
Each green soft gelatin capsule contains:
200 mg Solubilized Ibuprofen.
Properties:
– Rapifen is a rapid analgesic, antipyretic and anti-inflammatory.
– Rapifen contains ibuprofen in a soluble form enabling, thus, rapid
onset of action, as well as rapid relief of pain, which is faster than the
conventional forms of Ibuprofen ( tablets or capsules) containing
Ibuprofen in the non-solubilized form.
Indications:
– Forthe rapid relief of aches and pains associated with headache,
toothache, common cold, muscular aches, back-pain, and arthritic pain.
– For the relief of menstrual cramps and pain.
– For the reduction offever.
Dosage and Administration:
1 or 2 capsules when needed, or every 4 – 6 hours according to severity.
Contraindications and Precautions:
-In patients with known hypersensitivity to ibuprofen and in patients in
whom aspirin or other nonsteroidal anti-inflammatory drugs (NSAIDs)    induce symptomsutasthma-;-urticaria,or-rhinitis;
-In patients with active peptic ulcer.
– Use cautiously in patients with hepatic or renal diseases.
Pregnancy:
As with any drug, it is advised for pregnant women to seek the advice of a
health professional before use.
– It is especially important not to use ibuprofen during the last 3 months
of pregnancy unless specifically directed to do so by the physician.
Breast-feeding:
Ibuprofen is not excreted in breast milk in significant quantities. However,
alternate feeding methods might be recommended in long-term
ibuprofen therapy.
How Supplied:
Box of 10 soft gelatin capsules, each contains 200 mg solubilized
ibuprofen.     "–
keep out of reach of children
Product of:
Medical Union Pharmaceuticals,
Abu-sultan, Ismailia, Egypt.