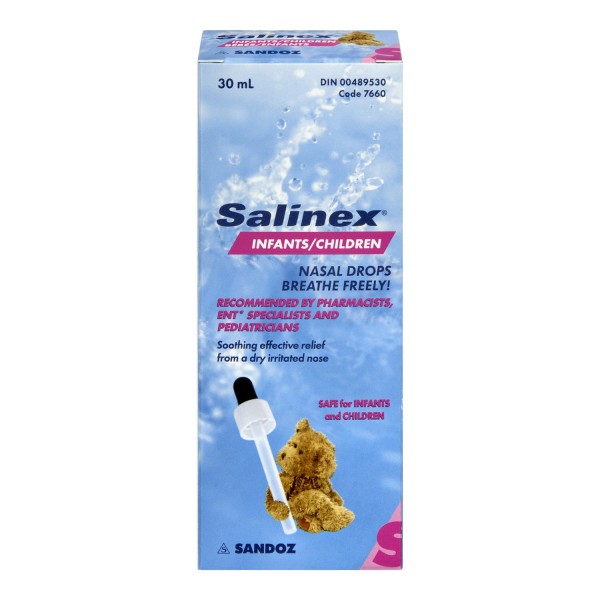 Salinex nasal drops
Sodium chloride
Composition :
Active ingredients :
Aqueous physiological solution containing 9 mg/ml of sodium chloride.
Inactive ingredients:
Benzalkonium chloride, Glycerin.
Pharmaceutical form :
Nasal drops
Pharmacological action :
The nose has a ciliary system which is in continuous movement from front to backward like a. (conveyer belt) to clean the nasal cavity twice per hour.The cilia stops moving in cases of extreme dryness, heat and cold air eonditioning. IN.!so stops moving during nasa] sinus infection and aUergic reactions and strong decongestants.
Use of Salinex nasal drops, acts locally in the nasal mucosa creating humidity and moisturizing media and decrease its viscosity.
This will facilitate the ciliary system movement and the cleaning of the nasal and sinus cavities to facilitate breatbing. It will also gets rid of dryness and will act as a decongestant without rebound congestion unlike other decongestants. It also protects nasal vessels from bleeding. It also has tbe effect of the constrtetlon of blood vessels without nasal congestion and not has adverse effect on the movement of the cilia mucous.
Pharmacokinetics :
Sodium chloride is wclJ absorbed through blood vessels ortbe nasal mucosa, thus its medical action is rapidly reacbed.
Indications :
1-Daily nasal hygiene and cleaning of nasal sinus.
2-Nasal congestion and obstruction due to infection.
3- difficulty in breathing resulting from accumulation of sticky retipns in respjratory tract..
4- Nasal bleeding due to dryness of nasal mucosa and excessive beat.
5-Headache due to nasal sinus and nasal cavity mucosa congestion.
6-Moisturizing agent for the nose of patients using anti-allergic medications.
7- Decongestant without rebound congestion like ether decongestants.
8-Postoperative moistarfzation and cleaning of the nose and nasal sinus.
Dosage and administration :
-Infants and children: bend cbild's head backwards and squeeze 1 – 2 drops into each nostril 3-4 times daily or as prescribed by the pbysician.
-Adults: squeeze 2 – 3 drops into each nostril 3 – 4 times daily or as prescribed by tbe pbysician.
Contraindications :
Hypersensitivity to any of tbe ingredients of tbe product.
Side effects :
None.
Drug interactions :
None.
Pregnancy and Locatation :
Salinex is safely used for pregnants and lactating mothers.
Precautions and warnings :
The use of this dropper by more than one person may spread infection.
Package and Storage :
– Drops: Plastic dro~er contains IS or 20 or 30 or 40 ml in a carton box witb a pampblet.
– Store at temperature between ( 15-30) -c
Instruction to patients :
T~c use of this dropper.by more than one person may spread infection.
Keep out of reach of children.
Manufactured by :
el nile co. for pharmaceuticals and chemical industries – cairo A.R.E