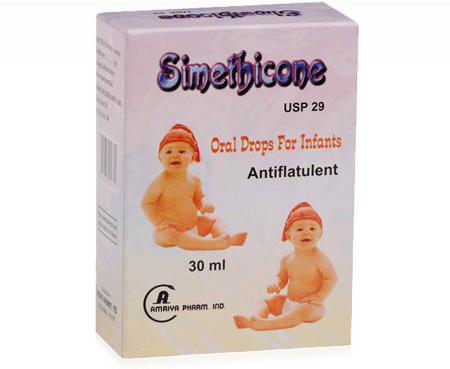 Simethicone
Emulsion
Oral Drops For Infants
Composition:
Each 100 ml Emulsion contains:
Simethicone     2 gm Properties :
The defoaming action of simethicone relieves flatulence by dispersing and preventing the formation 3 of mucus-surrounding gas pockets in the gastrointestinal tract. It acts in the stomach and intestine to lower the surface tension of gas bubbles enabling them to coalesce, thus the gas is freed and is_eliminated more easil
Indications: 
Relief of painful symptoms of excess gas in the digestive tract as in the following cases:
– Flatulence, air swallowing and functional dyspepsia.
– Flatulence and spasm.
– Enterocolitis.
– Intestinal colic.
– Gastrointestinal disorders.
Dosage and administration:
For infants under 2 years: 10 – 15 drops 1 – 3 times daily and at bedtime or as directed by the physician. The dose can be mixed with infants' milk or other suitable liquid.
Shake the bottle well before use.
Side effects:
None.
contra-indications :
None.
Precautions:
No special precautions.
Presentation:
A box containing a bottle of 30 ml with dropper.
Produced by
AmRIYA PHAAm. mo. ALEXANDRIA I EGYPT